Cast and crew discussed Oliver Stone's political drama in a TIFF press conference.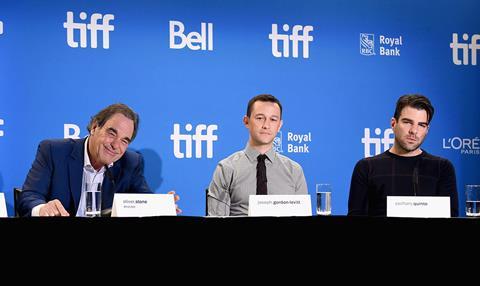 Speaking at a conference for Oliver Stone's Snowden, which had its official premiere at Toronto International Film Festival last night (Sept 9), star Joseph Gordon-Levitt said that whistleblower Edward Snowden, currently living in asylum in Moscow, Russia, "would love to come home".
Gordon-Levitt met Snowden in Moscow along with Stone while they were researching the film, and the actor said that the former NSA operative had expressed to him that he would like to return to his native US, adding that he hoped for that to happen.
Stone was predictably outspoken in his criticism of the US government's actions that led to Snowden leaving the country. "The [US] government lies all the time," he said. "What's going on right now is pretty shocking."
"What they're doing is illegal and they keep doing it," he continued, adding that we, the public, would probably "never know the whole story".
Asked whether he thought Snowden could ever return to the US, Stone said he believed he would if he was to receive a fair trial, but was sceptical of that happening. However, he didn't think that Snowden would be "treated like Chelsea Manning", which he referred to as "an outrageous case".
"The world is out of control," Stone went on to say, discussing how Russia was the only country to offer Snowden asylum. "Things have changed, it's more of an American world now."
Throughout the press conference, Gordon-Levitt was restrained in his words about the country's establishment, saying that he chose to remain optimistic that "we still live in a country where we can raise our voices and take control," but he did encourage greater scrutiny of the actions that led to Snowden fleeing the US. "It's worth being very critical of some of these particular actions of the US govenment."
Co-star Shailene Woodley added that the experience of making the film had taught her a lot about how we live: "Privacy is a privilege now, it's not something you inherently have."
Fellow co-star Zachary Quinto agreed, adding, "I became aware of our vulnerability on this film. What we're willing to sacrifice is shocking."