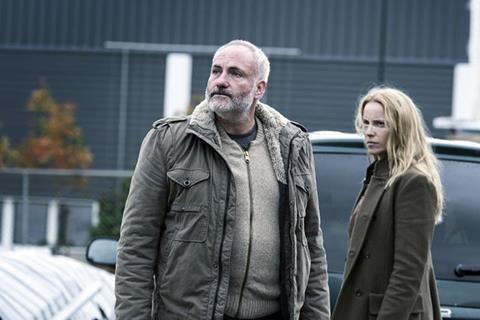 As the fourth and final series of hit Danish-Swedish TV series The Bridge plays around the world, a Serbia-Croatia version is "nearly greenlit," says Lars Blomgren, executive producer and MD of Swedish production company Filmlance.
At Goteborg's TV Drama Vision conference this week, he also said the fourth remake, from Germany-Austria, was now shooting. That follows three earlier remakes: UK-France, US-Mexico and Estonia-Russia. There will be more, he predicts, "There are plans on many parts of the planet."
Sofia Helin, who plays Swedish detective Saga Noren in the hit show, said she was ready to move onto new projects but proud of creating the "feminist role model" that is her character. "I'm happy we created Saga, she has meant a lot to not only people who identify with her condition [the character is on the autism spectrum] but just as a female lead she has meant a lot," Helin said in Gotegorg.
While no territory has yet seen the last episode, show creator and head writer Hans Rosenfeldt said it would be "the perfect ending." He added that "there is no real reason to make series five, six, seven, eight just because you can. Very few series you look around and say, 'They really peaked in series six', We didn't want to fall into that kind of slope where people were saying it used to be good, so we just ended it."
Mediapro plans
Ran Tellem - the former Keshet executive who spearheaded the Israeli show that inspired Homeland – spoke about new projects he is developing as head of international content development at Spanish powerhouse Mediapro Group.
Tellem is working on a new series called M.I.A. (short for Murder In Action). The initial idea comes from turning a scenario similar to ITV series Broadchurch on its head.
"I was wondering what would happen if it would be upside down, if we had a show where the murder was the least interesting thing in the town, and the police were the least interesting people in town. What kind of place would it be where a murder is non-interesting?"
That place is a military base during a war, when a person dies 10 feet inside the facility. "A police officer comes to question them and nobody gives a fuck about it," Tellem said.
An as-yet-undisclosed UK company is partnering on the development of the show.
Tellem also spoke about another new series, to be set in Rome under Nazi occupation, concentrating on seven characters, including one inspired by a real doctor, Vittorio Sacerdoti, who saved the lives of many Jews by diagnosing them with "K Syndrome", a fake disease that he warned the Nazis was highly contagious.
Tellem explained, "Everybody in Rome had to take a stand in a very crucial dilemma, do you bow down and sit and wait [for occupation to end], or do you stand up and fight? Everybody on the show is on different sides of that dilemma."
He is also now pitching The Senna Case, a trial drama about how the Williams Formula 1 team was prosecuted for Ayrton Senna's death; and The Head, a murder mystery/survival thriller set at a South Pole research station.
Tellem spoke about the importance of the "core dilemma" in any show. He said that can shift even as plot stays the same. "Season one of Prisoners Of War is about a family – can a man who is broken down ever make it back to be part of a family? Homeland [the US remake of the show] is about loyalty. They took the same storylines but applied it to a different core dilemma."
Tellem believes in the power of specific local storytelling. Of the YLE co-production The Paradise, set in a Spanish village populated by expat Finns, he said, "This is a Finnish show and this is why it will travel beautifully around the world, it's telling an authentic story. If we try to make it 'international' it would be a mistake."
Digital shifts
During a session held at the conference looking at the near future of TV, Johanna Koljonen, author of the Nostradamus report, noted that Netflix now has about 170 million subscribers but that "Netflix is small compared with the big tech companies, any of those could have Netflix for dinner…Alphabet [Google's parent company], Apple, Microsoft, Amazon and Facebook. Those are five of the eight biggest companies in the world in any industry. Any of these companies can decide tonight if they want to acquire a major studio or acquire Netflix."
Apple's App Store will "surpass the global movie industry this year in revenue," she predicted.
The spread of so many online platforms has made it hard for the consumer to find what they want, warned Marike Muselaers, co-CEO of Lumiere Group. "A show has to be good obviously …but then it has to do with smart marketing and PR and also smart search engines and easy ways to find a show you like – which we don't have at the moment. It would be great to have one content navigating system."
Walter Iuzzolino, curator of SVoD service Walter Presents, likened the current content world to "a chaotic street market. You have to haggle your way through it. Within this chaos new business models are born all the time. It's about curation."
Other speakers at TV Drama Vision included The Death Of Stalin director Armando Iannucci; Netflix's director of international originals Brian Pearson; NRK's head of drama Ivar Kohn and HBO Nordic's Hanne Palmquist.