Documentary to premiere at Tribeca on April 22.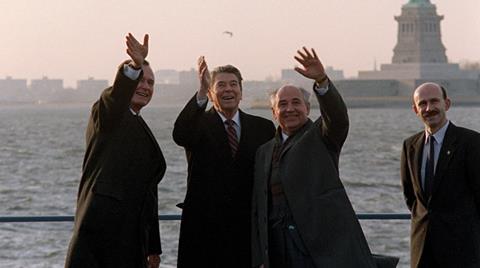 Gravitas Ventures has taken North American theatrical and streaming rights and CNN Films has acquired North American broadcast rights to The Reagan Show.
Pacho Velez and Sierra Pettengill co-directed the documentary from a script by Velez, Josh Alexander and Francisco Bello.
The Reagan Show will premiere in documentary competition at the Tribeca Film Festival on April 22 and is presented entirely through archival footage.
The film chronicles the 40th US President Ronald Reagan's previously unprecedented use of film crews and photographers to document the office of the president.
The Reagan Show will open theatrically on June 30, with VOD and home video release set for July 4. The broadcast premiere on CNN will follow the North American theatrical and video release.
"These tapes allow us to track Reagan through the end of the Cold War – with all its confusion, fear, humor and, above all, irony," said Pettengill.

"The goal of our immersive, self-reflective approach is to invite viewers to look closely at – and question – the use of narrative in contemporary politics. We're excited to have the opportunity to bring this very timely film to wider audiences through the great people at Gravitas and CNN."
"In The Reagan Show, these talented filmmakers present a fascinating look at what set Reagan apart and made his time in office iconic, no matter which side of the fence you fall on," Gravitas CEO and founder Nolan Gallagher said. "He knew better than most what the true power of the press is."
Pettengill also served as producer, while Dan Cogan and Amy Entelis of CNN Films and Houston King are executive producers.
Gallagher negotiated the acquisition with Ben Braun and Josh Braun of Submarine on behalf of the filmmakers.