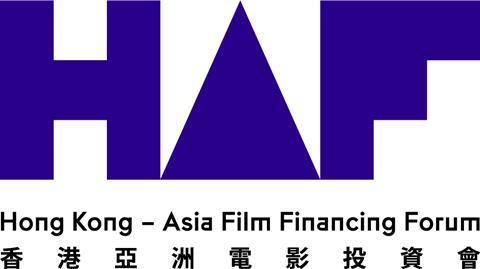 New works from filmmakers including Chang Tso-chi, Huang Ji, Pierre Sarraf, Tan Chui Mui and Jessey Tsang are among the 21 projects selected for the Work-in-Progress section (WIP) of this year's Hong Kong Asia Film Financing Forum (HAF).
The WIP projects will be presented online alongside the main programme of HAF (March 15-17) and Hong Kong Filmart (March 15-18). Most are at the post-production stage, with several currently in production. The line-up includes 10 documentaries and 11 fiction films, mostly from Asia, with several European productions and co-productions.
Fiction projects include works from first-time directors such as Louis Yin's Beijing-set As Day Comes And Goes, about a young man who becomes a rideshare driver to escape reality when Covid-19 hits, and Hong Kong director Anatasia Tsang's A Light Never Goes Out, about a widow's attempts to retrace her late husband's past.
Documentary projects include Mexican filmmaker Eden Bernal's The Siren Song, about two ageing sisters who work as sea as oyster collectors, and Korea-Nepal co-production No Winter Holidays, from Rajan Kathet and Sunir Pandey, about two old ladies who once shared a husband and are now tasked with taking care of 200 empty houses during a snowbound winter.
Awards in this section of HAF include the WIP Fiction Award and WIP Documentary Award, which are both presented by Create Hong Kong, HAF and the Hong Kong Film Development Fund and come with a cash award of $10,000 (HK$78,000).
WIP projects are also eligible for the White Light Post-Production Award and HAF Goes to Cannes Programme, through which five WIP projects will be presented at the Marché du Film.
Previous WIP projects include Hong Kong filmmaker Jun Li's Drifting, which is playing at the on-going Rotterdam film festival, and Han Shuai's Summer Blur, which won awards in Pingyao and Busan.
HAF WORK-IN-PROGRESS PROJECTS 2021
DOCUMENTARIES:
Airborne (India)
Director: Shaunak SEN
Producer: Aman MANN
Production Company: Kiterabbit Films
Between The Hooks (Germany)
Director: Ibrahim NASH'AT
Producer: Florian SCHEWE
Production Company: Film Five, RMG 247 Productions
Forms Of Forgetting (Turkey, France)
Director: Burak ÇEVIK
Producer: Selman NACAR, Guillaume de SEILLE
Production Company: Fol Film
No Winter Holidays* (Nepal, South Korea)
Director: Rajan KATHET, Sunir PANDEY
Producer: Rajan KATHET, Sunir PANDEY, Gary KAM Byung-seok
Production Company: Salpa Films, Mirror & Story
Our Second Home* (Hong Kong, Taiwan)
Director: Frankie SIN
Producer: Stefano CENTINI, Peter YAM Yin-cheung
Production Company: Volos Films Co, 70 Plus Production Company
Scala* (Thailand)
Director: Ananta THITANAT
Producer: Abhichon RATTANABHAYON
Production Company: Bandai Dam Studio
The Return Of Agaar* (China)
Director: YANG Bo
Producer: XU Xiaofei
Production Company: Hainan Mind Image Film Productions
The Siren Song*^ (Mexico)
Director: Eden BERNAL
Producer: Polly YEUNG, Eden BERNAL
Production Company: Sinapsis, The Lady Improper
Winter Chants (Hong Kong)
Director: TSANG Tsui-shan
Producer: Teresa KWONG, Ken HUI
Production Company: River Vision Company
Yasmine's Journal (Lebanon, France)
Director: Christian ABBOUD
Producer: Pierre SARRAF
Production Company: Beyrouth Films, K-U Fiction
FICTION:
A Light Never Goes Out* (Hong Kong)
Director: Anastasia TSANG
Producer: Saville CHAN
Production Company: A Light Never Goes Out
As Day Comes and Goes* (China)
Director: Louis YIN
Producer: LI Yanru, Seven BAI
Production Company: Beijing Straw Dog Culture Media Co
Lonely Pine^ (Kyrgyzstan)
Director: Dalmira TILEPBERGEN
Producer: Marina DESSIATKINA
Production Company: Arno Film, Culterra Magica
Red Horse In The Summer Sky (Taiwan)
Director: CHANG Tso-Chi
Producer: KAO Wen-Hung
Production Company: SimpleView Production Co
Saving One Who Was Dead^ (Czech Republic, Slovak Republic)
Director: Vaclav KADRNKA
Producer: Vaclav KADRNKA
Production Company: Sirius Films
Sometimes It's Like Going Back to Childhood* (Hong Kong)
Director: CHEN Guan
Producer: CHENG Qingsong, HE Xuan, LI Tianyu
Production Company: PAD International
Stonewalling^ (China)
Director: HUANG Ji, OTSUKA Ryuji
Producer: OTSUKA Ryuji
Production Company: Yellow-Green Pi Co
Sunshine Of My Life* (Hong Kong)
Director: Judy CHU
Producer: NG Kin-hung, Edmond WONG
Production Company: Mandarin Motion Pictures
The Wind Will Say* (China)
Director: Renai WEI Yongyao
Producer: TAN Chui Mui, Annie SONG
Production Company: Yiti Film Productions Co, Rapid Bus Films Co
To Love Again* (China)
Director: GAO Lingyang
Producer: LIANG Jing, GUAN Hu
Production Company: The Seventh Art Pictures Co
Zalava*^ (Iran)
Director: Arsalan AMIRI
Producer: Ruhollah BARADARI, Samira BARADARI, Ruth Yoshie LINTON
Production Company: Touba Film
* First-feature directors
^ Previous HAF projects