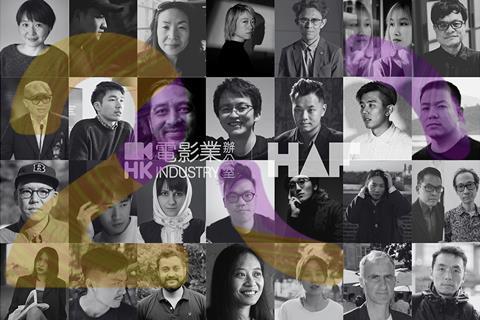 The Hong Kong-Asia Film Financing Forum (HAF) has announced 28 in-development projects for its 20th anniversary edition.
All are fiction projects, including eight from Hong Kong, 12 debut features and projects spearheaded by renowned filmmakers and producers including Huang Ji, Jun Li, Tetsuya Mariko, Ida Panahandeh, Michael J. Werner, Fruit Chan, Nonzee Nimibutr, Yang Chao and Jane Zheng.
For the third year in a row, HAF will run online from March 14-16 alongside the 26th edition of Hong Kong Filmart.
"Unfortunately, we won't have the opportunity to celebrate our 20th anniversary by hosting our usual in-person event due to the ongoing Covid-19 pandemic and travel restrictions," said HAF industry director Jacob Wong. "Nevertheless, based on experience gained from the last two years, we will strive to improve our online booking and meeting system to make it a breeze for all participants."
The eight Hong Kong projects selected for HAF's 20th edition represent the highest number in recent years. They include I Might Write About Us, a personal LGBTQ+ drama by Jun Li; The Returning Tide, the narrative feature debut of Jill Li, which follows two elderly men on their final journey to their hometown in Chaozhou; High Noon, a drama about a cop uncovering the brutal truth behind a recent robbery, directed by award-winning film editor Wong Hoi with Michael J. Werner as producer; and Smashing Frank, a dark comedy about four millennials who rob the rich, which Fruit Chan is producing.
Keeping up with its tradition of supporting new talent, HAF showcases 12 debut projects.
In Don't Cry, Butterfly, Duong Dieu Linh follows a middle-aged Vietnamese housewife who voodoos her husband back into love; in Summer Breeze, Ho Yuk-fai creates a bittersweet eulogy to Hong Kong's young generation through the lives of three graduates; and Moxie Peng tracks the bleak reality of a family of four in social drama Tender Is The Night, produced by Jane Zheng (The Farewell).
Among the more established directors whose new projects have been selected, Tetsuya Mariko examines what a father will do to get his son back in Missing; Iran's Ida Panahandeh (whose 2015 feature Nahid premiered in Cannes' Un Certain Regard) focuses on a gypsy woman temporarily released from prison who is suddenly revered as a saint in Passion; and Xu Zhenhao follows a debt-ridden man who turns a bar girl into an internet celebrity in The Millionth Lipstick, produced by Yang Chao.
According to HAF organisers, some filmmakers have also drawn inspiration from the pandemic for their projects. These include A Woman Builds by Huang Ji (whose Egg And Stone was a Rotterdam Tiger Award winner), which sees a woman return to her hometown to build a house when the pandemic keeps her husband and her daughter from travelling home; and Chifan by Tsang Tsui-shan, which follows a Belgium-born Chinese woman who is rendered an outsider in the eyes of the locals in Antwerp during the pandemic.
Some filmmakers have turned to magical realism or supernatural elements for their own pandemic-inspired narratives. Insectum, by Bhaskar Hazarika, focuses on an Indian man who descends into an insect-like state; Colleen Kwok's The Stars The Sun The Moon sees two primary-school friends transported 20 years into the future where one of them has died; and The Cursed Land co-directed by Panu Aree and Kong Rithdee and produced by Nonzee Nimibutr is the first-ever Thai-Muslim horror.
The in-development projects were selected from 222 submissions from 38 countries and regions. HAF will announce the line-up for a separate work-in-progress section in early February.
HAF20 in-development (IDP) projects:
A Woman Builds (China)
Director: HUANG Ji
Producer: OTSUKA Ryuji
Production Company: Yellow-Green Pi Co.
Absence (China) *
Director: WU Lang
Producer: DUN He
Production Company: Shanghai Turan Movie Co.
Bada (South Korea) *
Director: CHOI Ji-un
Producer: YANG Yun-ho
Production Company: Puruen Gonpangii
Chifan (Hong Kong)
Director: TSANG Tsui-shan
Producer: Teresa KWONG
Production Company: River Vision Company
Cubs (Indonesia)
Director: Riri RIZA
Producer: Mira LESMANA
Production Company: Miles Films
Don't Cry, Butterfly (Vietnam) *
Director: DUONG Dieu Linh
Producers: TAN Si En, TRAN Thi Bich Ngoc
Production Company: Momo Film Co.
Hanging Sun (Taiwan-Hong Kong)
Director: SHIH Li
Producers: Julia CHU, Jade LEE
Production Companies: Million Star Entertainment, Golden Gate Productions
High Noon (Hong Kong) *
Director: WONG Hoi
Producers: Michael J. WERNER, NGAI Tat-sum
Production Company: S&S Production Company
I Might Write About Us (Hong Kong-Taiwan)
Director: Jun LI
Producers: Peter YAM, Stefano CENTINI
Production Companies: Good Sin Production, Volos Films Co.
Insectum (India)
Director: Bhaskar HAZARIKA
Producer: Shyam BORA
Production Company: Metanormal Motion Pictures
Ma Bufan's Family (China) *
Director: CAO Yang
Producer: ZHANG Yu
Production Company: Deep Focus Pictures Culture Communication Co.
Malice (Taiwan)
Director: LIM Lungyin
Producers: Ivy SHEN Yu-Hua, KUEK Shee Heng
Production Company: TYDAL Productions
Maybe Today, If Not Today, Maybe Tomorrow (Malaysia) *
Director: LIM Han Loong
Producers: TAN Chui Mui, YEAP Swee Leong
Production Company: Da Huang Pictures
Mind Load Waves (China)
Director: SONG Chuan
Producer: CHEN Hong
Production Companies: Dot Art Creation Studio, Shanghai Crescent Productions
Missing (Japan)
Director: MARIKO Tetsuya
Producer: Eisei SHU
Production Company: Roji Inc.
Not Found (China) *
Director: HUANG Ningwei
Producer: LIU Jiayin
Production Company: Changsha Bu Che Nuan Tan Film & Culture Co.
Passion (Iran)
Director: Ida PANAHANDEH
Producers: Ruth Yoshie LINTON, Arsalan AMIRI
Production Company: Evar Film Studio
Smashing Frank (Hong Kong) *
Director: Trevor CHOI
Producer: Fruit CHAN
Production Company: 16 by 9 Limited
Summer Breeze (Hong Kong) *
Director: HO Yuk-fai
Producer: Amy CHIN Siu-wai
Production Company: Meh Mono Co.
Tender Is The Night (China-US) *
Director: Moxie PENG
Producer: Jane ZHENG
Production Company: Seesaw Productions
The Cursed Land (Thailand)
Directors: Panu AREE, Kong RITHDEE
Producer: Nonzee NIMIBUTR
Production Company: Cinemasia Co.
The Midsummer's Voice (China) *
Director: ZHANG Yudi
Producers: MEI Qiaochu, WANG Luka
Production Company: Beijing MaxTimes Cultural Development Co.
The Millionth Lipstick (China)
Director: XU Zhenhao
Producers: YANG Chao, YANG Jing
Production Company: Beijing Trend Cultural Investment Co.
The Partner (India)
Director: Nithin LUKOSE
Producers: Raj RACHAKONDA, Anurag KASHYAP
Production Companies: Studio 99 Films, Alif Talkies Productions
The Returning Tide (Hong Kong)
Director: Jill LI
Producers: DING Yuin-shan, Joyce YANG
Production Company: Glory Pearl
The Stars The Sun The Moon (Hong Kong) *
Director: Colleen KWOK Tung-shuen
Producers: Stephen LAM, Sandy YIP
Production Company: Production Avenue
Travellers (India-France)
Director: Pierre FILMON
Producers: Sonal SEHGAL, Pierre FILMON
Production Companies: Sonal Sehgal Films, Almano Films
Watergrass (China)
Director: QI Rui
Producer: QI Rui
Production Company: Beijing BigFish Cine Co.
* Debut features