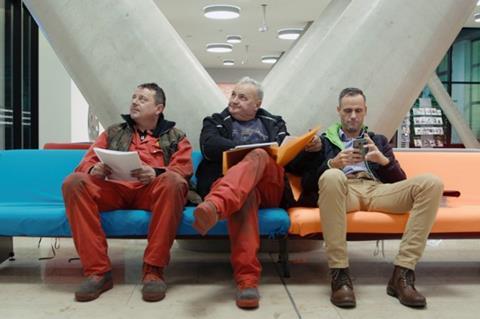 New films from Jonathan Perel and Max Linz are among 17 new titles added to the Forum section at the 2022 Berlinale; while the Classics section has programmed seven digitally restored titles ahead of next month's festival.
Argentinian filmmaker Jonathan Perel will participate with the world premiere of documentary Camouflage, about a writer who embodies a man with an obsession with Argentina's biggest military unit.
Perel's previous films include Berlinale 2020 title Corporate Responsibility.
German director Linz is in the festival with the world premiere of his new film L'Etat Et Moi, starring Sophie Rois, Jeremy Mockridge and Hauke Heumann.
Linz's previous work include the 2019 comedy drama Music and Apocalypse, which played in the Forum at the Berlinale.
The Classics section will present world premieres of seven digital restorations, including Pier Paolo Pasolini's Mamma Roma in the centenary of his birth; plus Notre Musique from Jean-Luc Godard; and Ken Russell's 1975 rock opera Tommy.
The titles are in addition to the first run of Forum selections, announced last month.
The festival will take place in-person from February 10-16; while the concurrent European Film Market will run online again this year, with details revealed last week to Screen.
Berlinale 2022 Forum, Classics titles
*world premiere
Forum
Shall I Compare You to a Summer's Day? (Egy-Leb-Ger) dir. Mohammad Shawky Hassan*
Camouflage (Arg) dir. Jonathan Perel*
This House (Can) dir. Miryam Charles*
L'état Et Moi (Ger) dir. Max Linz*
For the Many – The Vienna Chamber of Labour (Austria), dir. Constantin Wulff*
Geographies Of Solitude (Can) dir. Jacquelyn Mills*
Happer's Comet (US) dir. Tyler Taormina*
Jet Lag (Switz-Austria) dir. Zheng Lu Xinyuan*
Dry Ground Burning (Bra-Port) dirs. Adirley Queirós, Joana Pimenta*
Hot in Day, Cold at Night (S Kor) dir. Park Song-yeol
We Haven't Lost Our Way (Pol) dirs. Anka Sasnal, Wilhelm Sasnal*
Rewind and Play (Ger-Fr) dir. Alain Gomis*
Scala (Thai) dir. Ananta Thitanat*
Striking Land (Port) dir. Raul Domingues*
Three Tidy Tigers Tied A Tie Tighter (Bra) dir. Gustavo Vinagre*
The Kegelstatt Trio (Port-Sp) dir. Rita Azevedo Gomes*
The Veteran (Chile) dir. Jeronimo Rodriguez*
Classics
Mamma Roma (It) dir. Pier Paolo Pasolini, 1962
Pale Flower (Jap) dir. Masahiro Shinoda, 1964
Larks on a String (Czechoslovakia) dir. Jiří Menzel, 1969/1990
Our Music (Switz-Fr) dir. Jean-Luc Godard, 2004
Tommy (UK) dir. Ken Russell, 2005
Suzhou River (China-Ger) dir. Lou Ye, 2000
Brothers (Ger) dir. Werner Hochbaum, 1929