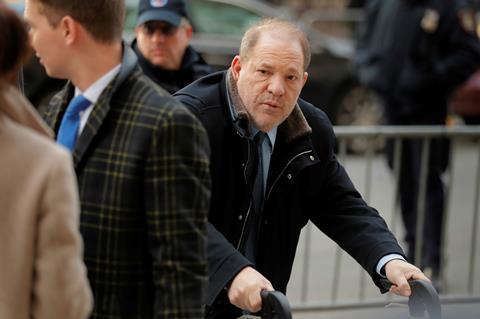 The Harvey Weinstein extradition hearing that would enable Los Angeles prosecutors to press ahead with their case against the former mogul and convicted rapist has been pushed back to December.
The hearing was scheduled to take place on Friday (August 14) on Skype before a judge in Buffalo, New York, and has been delayed until December 11.
Weinstein is at Wende Correctional Facility in New York state on a 23-year sentence after he was convicted in March of third-degree rape and first-degree sexual assault.
A spokesperson for Los Angeles County District Attorney's office said the office agreed with the defence to delay the extradition 120 days due to pandemic concerns.
Los Angeles prosecutors have charged the disgraced former Hollywood titan related to alleged incidents of rape and sexual battery.
Speaking to reporters on Friday morning, Erie County District Attorney John J. Flynn said in order for Los Angeles prosecutors to get Weinstein to stand trial in Los Angeles, they must serve papers to the Wende facility, who would then pass the papers to the Erie County DA's office to schedule a hearing.
When the December 11 hearing takes place, a judge will ask Weinstein if he agrees to go to Los Angeles. If Weinstein says no, a second hearing will be scheduled in which the onus will be on him to prove why he should not be extradited.
Flynn said Weinstein can also appeal to New York state governor Andrew Cuomo to not send him to Los Angeles for whatever reason.