X-Men spin-off makes $48.34m, pushing Resident Evil: The Final Chapter into second place.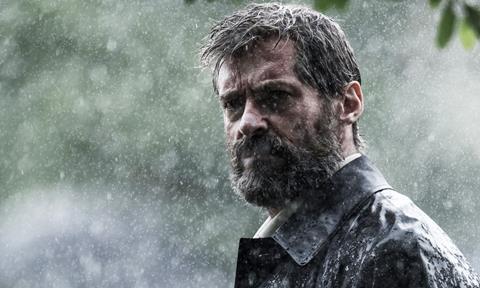 While Hollywood continued to enjoy the upper hand at the Chinese box office with eight top films in the week of Feb 27 – Mar 5, the week's box office dropped by approximately 19% week-on-week, making it the first week to come under RMB1 billion ($140m) this year.
Fox's Logan stole the crown, getting away with $48.34m from its three-day debut. The X-Men spin-off, which sees Hugh Jackman in his final outing as Wolverine, narrowly surpassed the combined box office of its two predecessors. Its opening was on par with X-Men: Apocalyse which went on to gross $116m (based on current exchange rate).
The tentpole action thriller made history in China as the first being released with a parental advisory under the new Film Industry Promotion Law, which took effect from Mar 1. The film, rated R in the US for strong language and violence, lost about 14 minutes of its running time in China.
After an explosive first week, former champion Resident Evil: The Final Chapter slipped to a close second place with $43.73m. After a 10-day total of $138.68m, Sony's zombie franchise is set to be the second non-Chinese film to cross the RMB1 billion ($140m) benchmark this year, after xXx: The Return Of Xander Cage.
Universal's family film A Dog's Purpose opened in third overall with $16.97m from its first three days. On Sunday, the film overtook Resident Evil: The Final Chapter for second place.
New Regency's video game-based action adventure Assassin's Creed fell one place to the fourth with $5.53m for $22.87m after 10 days; ahead of Paramount's xXx: The Return Of Xander Cage with $4.98m for $157.33m after 24 days and Illumination Entertainment's animation Sing with $3.80m for $27.69m after 17 days.
Warner Bros's animation The Lego Batman Movie opened in seventh with $3.44m from its first three days, while Lionsgate's romantic musical La La Land failed to capitalise much on its six Oscar wins and dropped further to the eighth with $3.08m for $33.49s after 20 days.
The last two entries were Chinese New Year holdovers: Duckweek on $1.12m for $148.87m and Kung Fu Yoga on $0.98m for $249.34m, both after 37 days from their extended run.
Kingsglaive: Final Fantasy XV and Genius are scheduled for Mar 10.With no major titles on deck, Logan is likely to stay atop.