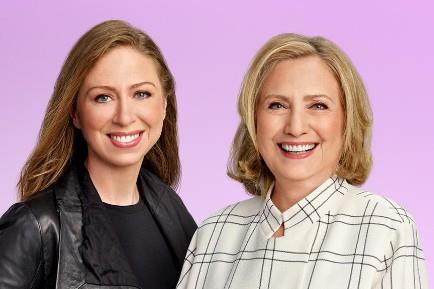 Former US secretary of state Hillary Clinton and Chelsea Clinton will showcase their upcoming Apple docuseries Gutsy as part of TIFF's Industry Conference Visionaries programme.

The series is based on The Book Of Gutsy Women by the Clintons and follows mother and daughter as they meet innovative artists, activists, community leaders, and everyday heroes.
Featured in the series are Gloria Steinem, Megan Thee Stallion, Jane Goodall, Wanda Sykes, Amy Schumer, Goldie Hawn, Kate Hudson and Kim Kardashian, among others.
The series is produced via the Clintons' production company HiddenLight in association with Left/Right.
"We are thrilled to welcome Hillary and Chelsea Clinton to TIFF 2022," said Cameron Bailey, TIFF CEO. "As two 'gutsy' women themselves, their breadth of experience and insight into social issues and gender politics is inspiring. We are honoured to host this special conversation as part of TIFF's Industry Conference and spotlight their upcoming Apple Original documentary series Gutsy."
TIFF runs from September 8-18.