National Endowment For The Arts (NEA) helped launch the Sundance Institute and received $148m in current cycle.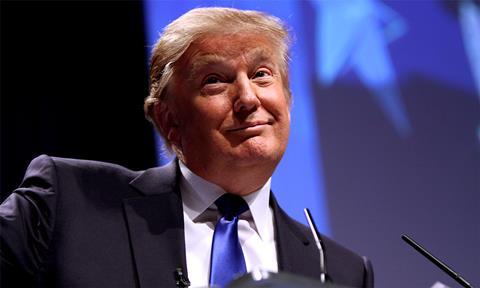 Leadership at the Sundance Institute and Hollywood guilds on Thursday warned that the US administration's budget proposals to halt funding to two key federal agencies threatened to undermine culture's role in society.
The $1.1tn budget blueprint of the Trump presidency unveiled on Thursday proposed a $54bn increase in defence spending yet would remove funding to the NEA and National Endowment For The Humanities (NEH).
The NEA played an integral role in backing the launch of the Sundance Institute in 1981 and received a little less than $148m for its current cycle. The NEH received about $150m.
Both bodies were created in 1965 and are among a pool of 19 federal agencies that face cuts, including the Corporation For Public Broadcasting, which funnels some funds to PBS.
In a statement Sundance Institute said: "Sundance Institute vigorously supports the National Endowment for the Arts, and calls upon our country's leadership to do the same. NEA support played a crucial role in launching Sundance Institute in 1981 and has helped thousands of museums, arts programs and organizations.

"The NEA plays a critical role in building a culture that values artists and understands the important economic benefits of investing in the arts. Defunding the Endowment undermines our national artistic heritage, and handicaps our future potential."
A joint statement by the leading Hollywood guilds said: "The DGA, SAG-AFTRA and WGA West and East, and IATSE – as the guilds representing creators, performers, technicians and artists in American film, television, radio, sound recordings and digital media – urge our nation's leaders to preserve funding for the National Endowments for the Arts and Humanities and the Corporation for Public Broadcasting.

"As a source of inspiration, action and economic growth, our country's creative arts are integral to our culture, our American identity and our democracy. Access to the arts has fueled generations of great Americans, uplifted communities and helped heal our nation's greatest divides. Cutting federal support of these programs will not only hurt artists and those who benefit from their work, it will also send a damaging message to future generations about the power of art and its place in our culture."
Earlier on Thursday NEA chair Jane Chu said of the proposal: "We are disappointed because we see our funding actively making a difference with individuals of all ages in thousands of communities, large, small, urban and rural, and in every Congressional District in the nation."
"We are greatly saddened to learn of this proposal for elimination, as NEH has made significant contributions to the public good over its 50-year history," NEH chairman William D. Adams said.
Speaking in January at the launch of the annual Sundance Film Festival, Institute executive director Keri Putnam addressed the topic of possible arts cuts under a Republic administration days before Trump's inauguration.
"I don't think this is just a question for filmmakers… this is a human issue about free expression and what role the arts play," Putnam told reporters at the opening press conference.
"It feels more like a statement about the arts. What people can do is to speak up [about] what role arts bring to our lives."
Congress must ratify the budget proposals before the start of the new fiscal year on October 1.