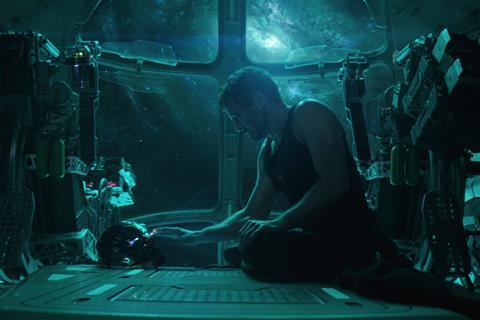 Hong Kong's box office decreased by just 1.74% to $247.4m (HK$1.92bn) in 2019, despite the impact of political protests that have rocked the city since the middle of last year.
According to data from Hong Kong Box Office, the total was achieved despite a decline in the total number of films released to 326 titles compared to 353 the previous year. Overall box office was up by around 6% in the first half of 2019, but started to dip when the protests became more regular in the second half of the year.
Avengers: Endgame was by far the highest-grossing release, raking in $28.55m, more than twice the gross of the second highest title, Toy Story 4, which took $11.39m. Spider-Man: Far From Home came in third with $10.91m, followed by Captain Marvel with $9.78m and Joker, still on release, which had grossed $7.83m by December 31 (see charts below).
Hong Kong films grossed a combined $32.54m (HK$252.9m) for a 13.2% market share, which was on par with the previous year, but no Hong Kong films made it into the year-end top ten in either 2018 or 2019. In stark contrast to mainland China, where only two Hollywood films made it into the top ten, Hong Kong's top ten chart was entirely comprised of US titles.
Alan Mak's crime drama Integrity was the highest-grossing Hong Kong film with $4.03m, followed by Herman Yau's action title The White Storm 2: Drug Lords ($3.19m) and Wilson Yip's kungfu biopic Ip Man 4: The Finale ($2.90m). All three films are Hong Kong-China co-productions, with the latter two firmly aimed at the mainland market, but the chart of top-grossing local titles also contained smaller films aimed at local audiences, such as Oliver Siu Kuen Chan's social drama Still Human and Pang Ho-cheung's comedy Missbehavior.
The difference between Hong Kong and mainland tastes can also be seen in the fact that purely mainland blockbusters – such as Ne Zha, The Wandering Earth, The Captain and Crazy Alien – were either not released or didn't perform well in Hong Kong.
Even some Hong Kong-China co-productions have fallen foul of anti-mainland sentiment with Hong Kong protestors reportedly boycotting Ip Man 4: The Finale due to the pro-Beijing stance of the film's producer and actors.
Hong Kong's protest movement started in June 2019 in response to a controversial bill, that would have allowed for extradition from Hong Kong to mainland China, and has since evolved into wider calls for democracy and an independent inquiry into police violence. While most of the more violent clashes between protestors and police have taken place on the streets, some protest action has moved into shopping malls where most Hong Kong cinemas are located.
TOP TEN NON-HK FILMS 2019
TITLE (RELEASE DATE) US$ (HK$)
1. Avengers: Endgame (24/04) $28.55m (HK$221.9m)
2. Toy Story 4 (11/07) $11.39m (HK$88.54m)
3. Spider-Man: Far From Home (28/06) $10.91m (HK$84.79m)
4. Captain Marvel (06/03) $9.78m (HK$76.04m)
5. **Joker (03/10) $7.83m (HK$60.90m)
6. Aladdin (23/05) $7.69m (HK$59.75m)
7. Frozen II (23/11) $7.12m (HK$55.35m)
8. Alita: Battle Angel (05/02) $5.87m (HK$45.65m)
9. The Lion King (25/07) $4.94m (HK$38.37m)
10. Fast & Furious: Hobbs & Shaw (01/08) $4.80m (HK$37.35m)
**Still on release
TOP TEN HONG KONG FILMS 2019
TITLE (RELEASE DATE) US$ (HK$)
1. Integrity (05/02) $4.03m (HK$31.36m)
2. The White Storm 2 Drug Lords (16/07) $3.19m (HK$24.81m)
3. Ip Man 4: The Finale (20/12) $2.90m (HK$22.54m)
4. The New King Of Comedy (05/02) $2.83m (HK$21.97m)
5. Still Human (11/04) $2.55m (HK$19.81m)
6. P Storm (04/04) $2.30m (HK$17.88m)
7. Missbehavior (01/02) $1.67m (HK$12.99m)
8. A Lifetime Treasure (01/02) $1.43m (HK$11.11m)
9. Line Walker 2 (08/08) $1.20m (HK$9.36m)
10. Chasing The Dragon II: Wild Wild Bunch (06/06) $1.18m (HK$9.15m)
Source: Hong Kong Box Office (HKBO)