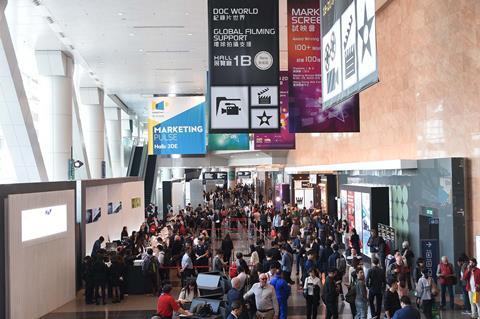 The Hong Kong Trade Development Council (HKTDC) has confirmed that this year's Filmart will be postponed from March 25-28 to August 27-29 in response to the coronavirus outbreak.
"The safety and well-being of our exhibitors and participants has always been our priority," said the HKTDC in a statement. "The decision is made in response to the preventive measures taken by the Hong Kong SAR government and health authorities worldwide to contain the novel coronavirus epidemic."
Although the dates have been changed, the film and TV trading event will still be held at the Hong Kong Convention and Exhibition Centre (HKCEC) in Wanchai.
The HKTDC added that further details of the postponement would be announced soon and apologised for the inconvenience. The postponement was not a surprise considering current conditions in Hong Kong and the travel restrictions in place between Hong Kong and mainland China, which provides a large proportion of Filmart's buyers and sellers.
Most workplaces in Hong Kong are advising staff to work at home, schools have been closed until March 16 and the city is experiencing waves of panic buying of surgical masks, disinfectant, toilet roll and basic foodstuffs such as rice.
Chinese authorities announced a more than ten-fold increase in coronavirus infections on Wednesday (February 12) due to a change in diagnostic criteria, with 15,152 new cases of infection and 254 deaths in a single day. In total, mainland China now has more than 60,000 cases of infection and 1,369 people have died. So far, Hong Kong has reported 50 cases of infection and one death. Local scientists are describing it as a community outbreak as some recent infection cases haven't visited mainland China, so contracted the virus in Hong Kong.
The outbreak has torn apart Hong Kong's events schedule. Art Basel, which was scheduled to run March 17-21, has been cancelled and rugby tournament, the Hong Kong Sevens, has been postponed from April, with October being mentioned as a target date.
The Hong Kong International Film Festival, which is scheduled for March 24-April 6, is currently considering its options. Yesterday, the organisers of the Hong Kong Film Awards, which usually takes place in mid-April, announced the nominations for this year's edition, but also said the ceremony would likely be postponed and take on a different format.