Fox's The Martian and Suffragette record slim drops, as Paramount's Paranormal Activity: The Ghost Dimension is the week's highest new entry with non-final $2.25m (£1.47m), including previews.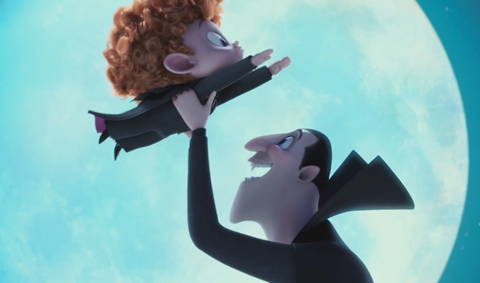 Further distributor results to come…
SONY
As the market prepares for the launch of Spectre tonight [Oct 26], Hotel Transylvania 2 enjoyed a second straight week at the top of the UK box office.
Sony's animated sequel dropped a slim 19% (excluding previews) to add $3.5m (£2.3m) for $14.4m (£9.4m), meaning it has already surpassed its predecessor's $12.4m (£8.1m) lifetime UK haul.
With the school holidays kicking off today, Hotel Transylvania 2 looks set to prosper over the coming week as counter-programming to Spectre.
On the subject of Spectre, Sony will release it in 647 sites tonight which marks the widest-ever release in the UK. Skyfall did $57.3m (£37.33m) over its first seven days, although it was released more traditionally on a Friday and played in 587 sites.
Also for Sony, The Walk has grossed $2.1m (£1.35m) after three weeks in play.
FOX
The Martian continued its excellent UK run as it fell just 27% in its fourth weekend and climbed up to second.
Fox's sci-fi adaptation crossed the £20m mark with $2.6m (£1.7m) for $31.3m (£20.4m) to date. It will likely be affected by the arrival of Spectre, but should still soon overtake Hannibal's $33.1m (£21.6m) as Ridley Scott's third biggest UK outing.
Also for Fox, Suffragette dropped a slim 14% (excluding previews) as it enjoyed a $2.1m (£1.34m) second weekend for $8.9m (£5.8m) to date. The Pathe release effectively repeated its opening seven days of $4.5m (£2.93m), which bodes well for a sustained run.
Bollywood rom-com Shaandaar landed with $254,000 (£165,717), including previews, from its 59 sites, while Maze Runner: The Scorch Trials has now amassed $13.5m (£8.81m) after seven weeks in play.
PARAMOUNT
The week's highest new entry came in the form of Paranormal Activity: The Ghost Dimension as it charted third.
Paramount's latest instalment in the found footage series scared up a non-final $2.25m (£1.47m), including $536,000 (£349,000) in previews, from its 405 sites. That marks the lowest ever opening for the franchise, behind spin-off The Marked Ones' $2.43m (£1.58m) from 335 sites.
However, based on Fri-Sun tallies, The Ghost Dimension's $1.72m (£1.12m) is ahead of The Marked Ones' $1.55m (£1.01m).
EONE
Rounding off this week's top five on its UK bow was eOne's The Last Witch Hunter with $1.9m (£1.24m) from its 366 sites, including $410,000 (£267,148) in previews.
That debut means it narrowly missed out being director Breck Eisner's best-ever UK opening, which remains Sahara's $2.1m (£1.37m) from 399 sites.
The Last Witch Hunter has, however, already outgrossed the entire run of Vin Diesel's last standalone lead outing, Babylon A.D.'s $1.8m (£1.2m).
Also for eOne, Mississippi Grind rolled to a $30,000 (£19,314) debut from its 19 sites.
WARNER BROS
Pan sail to an extra $1.8m (£1.2m) over its second weekend, having set director Joe Wright's best-ever UK opening.
Warner Bros' fantasy prequel is now up to $7m (£4.6m) as the school holiday kicks off, but is unlikely to match Wright's best-ever UK performance which currently remains Pride & Prejudice's $22.3m (£14.57m).
Also for Warner Bros, The Intern is up to $4.1m (£2.7m) after four weeks in play.
LIONSGATE
Falling a respectable 38% in its third weekend, Lionsgate's Sicario shot to a further $842,000 (£548,742) for a solid $6.7m (£4.4m) to date.
Also for Lionsgate, The Little Penguin: Pororo's Racing Adventure posted a UK bow of $73,000 (£47,439) from 50 sites, while Paper Planes could only manage a $6,700 (£4,381) debut from its 68 sites.
UNIVERSAL
Crimson Peak fall almost 50% on its way to a $767,000 (£500,091) second weekend for a ten-day tally of $3.1m (£1.99m).
Also for Universal, Everest climbed to an extra $186,000 (£121,067) for $16.1m (£10.5m), while The Queen of Ireland grossed $43,000 (£28,348), including previews, from its opening in 23 Republic of Ireland sites.
STUDIOCANAL
Hitting £18m in its seventh weekend, StudioCanal's Legend continued its strong run with $437,000 (£284,844) for $27.7m (£18.06m) to date.
Also for StudioCanal, Macbeth took a further $177,000 (£115,591) for $3.9m (£2.56m) after four weeks in play, while The Program expectedly suffered following its soft opening as it added $71,000 (£46,167) for $455,000 (£296,649).
PICTUREHOUSE ENTERTAINMENT
Rising 10% (excluding previews), Picturehouse Entertainment's The Lobster grabbed a non-final $371,000 (£241,794) from its 82 sites for a decent $999,000 (£651,584) to date.
Also for Picturehouse Entertainment, Listen to Me Marlon opened to $14,000 (£9,117) from its nine sites, playing mostly split performances.
DOGWOOF
Released in 13 sites through Dogwoof, The Black Panthers: Vanguard of the Revolution recorded a UK bow of $29,000 (£19,085), including $15,000 (£9,561) in previews.
UPCOMING RELEASES
Sony's Spectre lands in cinemas tonight [Oct 26] as, unsurprisingly, most other films avoid opening this week.
Dogwoof's Fresh Dressed, Vertigo Releasing's Black Souls and Metrodome's Under Milk Wood are among the films receiving a limited release.