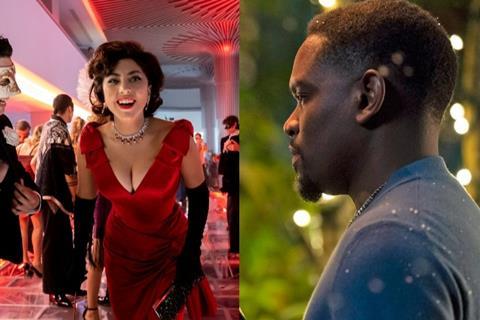 Rank
Film (Distributor)
Three-day gross (Dec 3-5)
Total gross to date
Week
1
House Of Gucci (Universal)
£1.5m
£5.6m
2
2
Encanto (Disney)

£1.3m
£3.3m
2
3
Ghostbusters: Afterlife (Sony)
£1.1m
£9.2m
3
4
Christmas With André
(Piece Of Magic Entertainment)
£707,381
£707,381
1
5
Eternals (Disney)

£318,602
£14.5m
5
GBP to USD conversion rate: 1.33
Holdovers dominated at this weekend's UK-Ireland box office, with Aml Ameen's Boxing Day missing out on breaking into the top five, but leading the new releases for movies. Filmed concert Christmas With André is the only new addition to the top five.
Universal's House Of Gucci, directed by Ridley Scott and starring Lady Gaga, Adam Driver and Jared Leto, continues its claim on the top spot in its second week, taking £1.5m – although that's down 62.5% from its opening weekend's takings of £2.4m. The overall total is £5.6m.
Disney's Encanto has taken £1.3m in its second week, down 17% from last weekend, with a total of £3.3m. It has, however, held onto the number one spot at the global box office chart this week ($33.4m) and is the only title to move up in this week's UK-Ireland top five, going from third to second place.
Sony's Ghostbusters: Afterlife took £1.1m in its third week – half of what it took in its second session – bringing its total up to £9.2m.
Disney's Eternals was hit by a 46% decline on its last session, but still took £318,602 in its fifth weekend, with an overall total of £14.5m.
No Time To Die took £270,076 in its 10th session, now standing at a total of £96m.
Best new releases
Aml Ameen's debut feature Boxing Day, starring Ameen, Aja Naomi King, Leigh-Anne Pinnock, Marianne Jean-Baptiste and Stephen Dillane and released by Warner Bros, hasn't quite managed to nudge its way into the top five, in spite of its wide release of 443 locations. It just missed out on breaking through with £255,013, giviing it a site average of £576. With previews, the total goes up to £265,219.
Sony's action-horror series reboot Resident Evil: Welcome To Raccoon City has opened to £252,000 in 334 locations, making an average of £755 per site. This is quite a drop from the highest-grossing of the original six films Resident Evil: Afterlife 3D, which took £1.7m in its opening weekend in 2010.
Mike Mills' black-and-white drama C'mon C'mon, released by Entertainment Film Distributors and led by Joaquin Phoenix as a radio journalist on a cross-country trip with his young nephew, took £75,071 in its debut weekend at 133 locations, with a site average of £564, and a total of £106,679 including previews.
In event cinema, André Rieu's Christmas With André, the latest concert from the Dutch violinist, showed in 558 sites through Piece Of Magic Entertainment taking a very impressive £707,381 (with around 25 locations still to announce). Rieu has previously broken box office records in the UK for concert movies, although this doesn't quite match the £1.7m from the opening weekend of 2020's André Rieu: 70 Years Of Young.
Dune still strong
One holdover that contiues to perform admirably is Warner Bros' Dune. While it's dropped 58% from its last session's takings, with £240,423 in its seventh weekend, its total stands at an impressive £21.4m.
Sky Cinema's A Boy Called Christmas, distributed by Studiocanal, has enjoyed a 9% increase on its opening weekend, taking £132,430 in its second week, with a total of £292,518.
Warner Bros re-release of The Matrix, to mark its 20th anniversary and ahead of the latest instalment arriving in cinemas on December 22, has taken £126,945 from 372 locations, averaging £341. King Richard, another Warner Bros title, took £99,938 in its third session, with a £1.4m total.
CBeebies Christmas Show 2021: The Night Before Christmas took £98,654 from 480 sites across the weekend's screenings, with a total including previews of £105,864 (25 sites are still set to report).
Universal's The Boss Baby 2 has £56,309 in its seventh week. Its total now stands at £7.1m.
Sony's Venom: Let There Be Carnage took £52,000 in eighth session, with its total now standing at £18m – although still not quite reaching the success of the first film, which took £20.2m in 2018.
Wes Anderson's Disney title The French Dispatch took £42,744, down 48% on its previous session, with a total after seven weekends of £4m.
Disney's Bollywood romance Tadap has opened with £29,622 from 65 sites, bringing its average to £455.
In more event titles, Eurydice – Met Opera 2021, under Trafalger Releasing, opened with £25,683 across 118 locations, and an average of £218. Seventh Art Distribtion's event title Exhibition On Screen: The Danish Collector - Delacroix To Gaugin 2021 opened on Tuesday. Of the 81 location reports, the total gross from Tuesday-Sunday is £16,446. Across the weekend, the title took £2,677 across 17 sites, with a weekend average of £157.
Of Universal's two new releases this weekend, Justin Chon's Blue Bayou has had the highest weekend takings, with £8,038 from 115 sites, giving an average of £70. Its total including previews is £8,975. Final Account has taken £3,114 from 67 locations, with an average of £46, but its total gets boosted to £9,136 including previews.
Camille Griffin 's debut feature, comedy-horror Silent Night, starring Keira Knightley, Matthew Goode, Roman Griffin Davis, Annabelle Wallis, Lily-Rose Depp and Sope Dirisu, opened to just £8,195 from 44 locations, with an average of £186. Altitude distributed.
Altitude also distributed Netflix's The Hand Of God, a Venice premiere directed by Paolo Sorrentino. It opened at over 30 sites but the streamer does not release box office figures.
It was a commendable opening weekend for BFI's re-release of Ernst Lubitsch's 1940 Christmas-set romantic comedy The Shop Around The Corner, taking £4,421 from five sites, for a site average of £884.
Reggie Yates' feature debut Pirates hasn't managed to build on its opening weekend figure of £40,000, taking £4,714 over its second weekend, bringing its total to £88,500 after its second session.
New Wave Films has released Mohammad Rasoulof's Berlin 2020 title There Is No Evil in seven locations, taking £1650, so a £235 average, with another £675 from a preview.