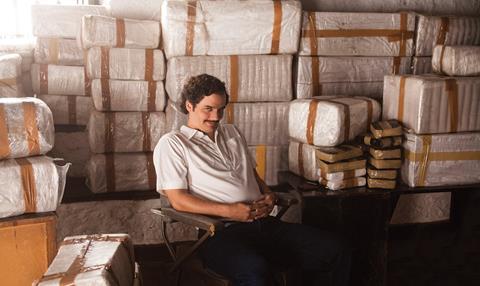 Mexican audiences are more likely to watch subtitled content than US, German, South Korean viewers, while younger viewers across the board in the four countries generally consume more subtitled content, according to a study on optimal localisation of international content by Parrot Analytics.
The research company studied viewer groups in the four countries and discovered that 44% of Mexicans surveyed reported that in the past month they had watched a foreign-language title with subtitles, reflecting the common practice of subtitling international content as opposed to dubbing in the country.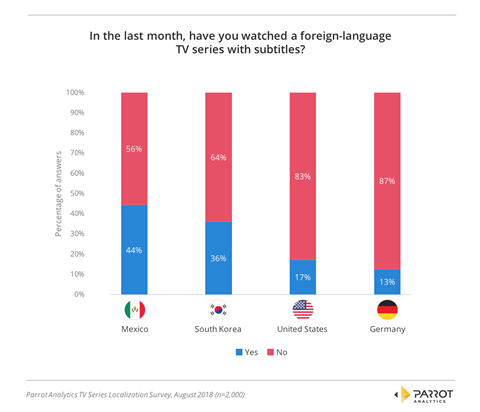 Some 36% of respondents in South Korea said that they had watched a non-Korean title with subtitles in the past month, once again reflecting the approach to content localisation, added to the fact that there is a strong "torrenting scene" in the country that primarily engages with foreign content in subtitled form.
In the US and Germany, audiences are less willing to engage with subtitled foreign-language content, with only 17% and 13% of respondents respectively answering that they had watched a foreign-language show with subtitles in the past month.
Younger demos more likely to watch subtitled shows
Across the four sample countries, the study found that young people are more likely to watch subtitled shows compared to older people, except in Mexico.
In South Korea, the US and Germany, the age demographic with the highest rate of subtitle consumption is the youngest bracket. South Koreans aged 18-24 were 5% more likely to have watched subtitled content than the national average.
In the US, those in that bracket were 12% more likely to watch subtitled content than the market average, while in Germany that younger demographic was 11% more likely to do so than the average.
In Mexico respondents within the 55-64 age group were likely to respond that they had consumed subtitled content recently.
The Parrot Analytics study coordinators suggest one possible reason for the increased engagement in the 18-24 demographic is the popularity of Japanese anime, which is commonly watched subtitled content by fans of the genre. Another explanation, the researchers posited, could be that piracy of TV shows is more common among young people, and pirated material is more likely to be subtitled than dubbed.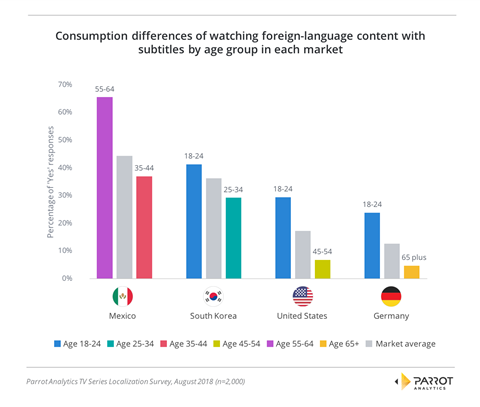 How gender plays a part in subtitle consumption
When gender was taken into consideration, women in South Korea said they had watched a subtitled non-Korean language title in the past month 9.4% more than men in the same country. In the US the percentage increase was 7.1%, and in Mexico 6.5%.
The inference is that localised shows in subgenres preferred by women in these markets are more likely to be subtitled than dubbed. The exception was Germany, where men watch subtitled content a mere 1% more than women.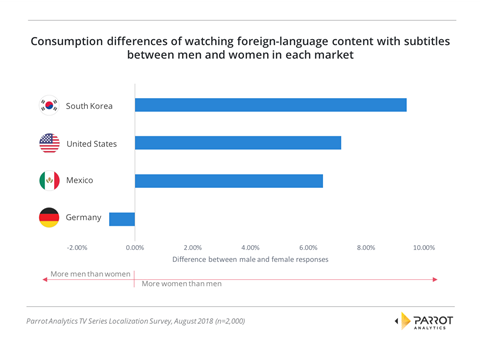 Netflix crime drama Narcos was cited as possibly the most prominent example of the subtitling trend in localising content. The American production includes many scenes that are entirely in Spanish with English subtitles. The US has a high proportion of Spanish-speakers, however Narcos is also a top-ranked show in markets like France, Italy and Poland that relatively speaking do not have large Spanish-speaking populations.
The survey involved participation from 500 respondents per country, for a total of 2,000 respondents.