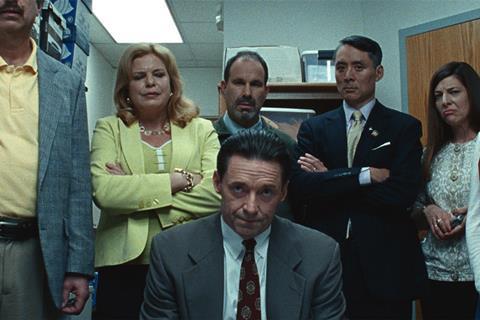 HBO has picked up worldwide rights to Bad Education, the satirical take on a school board embezzlement scandal starring Hugh Jackman and Allison Janney that was arguably the hottest acquisition title at TIFF.
While interest swirled around the film before its first P+I screening in Toronto on September 11, it took longer to close than observers had expected. HBO hailed the "historic sale" as a record-breaker, however despite the lofty claim they declined to confirm the amount to Screen at time of writing. Sources said the number is likely to be around $17.5m, which is what Fox Searchlight paid for worldwide rights to Nate Parker's ill-fated The Birth Of A Nation in Sundance 2016.
HBO is planning a 2020 release and awards push after beating out several theatrical rivals for the film. Bad Education will air "where [HBO] has networks and streaming services", although Screen understands this does not include HBO Max, which launches in spring.
Automatik and Sight Unseen produced Cory Finley's directorial follow-up to Thoroughbreds, which stars Jackman as Frank Tassone, the real-life former school superintendent who confessed to stealing millions of dollars from the school district.
Fred Berger, Eddie Vaisman, Julia Lebedev, Brian Kavanaugh-Jones, Oren Moverman, and Mike Makowsky produced the feature, with Leonid Lebedev and Caroline Jaczko onboard as executive producers.
CAA Media Finance and Endeavor Content represented the filmmakers in the deal.