Streaming platform announces live TV beta service at Hulu Upfront Presentation.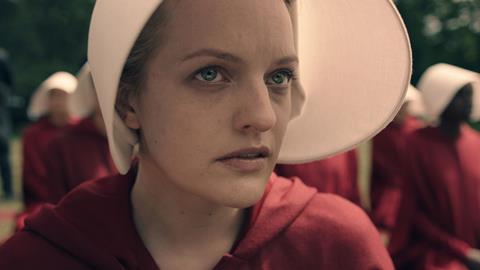 Hulu's breakout dystopian drama The Handmaid's Tale has received a second season pick-up to premiere in 2018.
Top brass told the Hulu Upfront Presentation in New York on Wednesday that more viewers watched the premiere's US debut on its platform than any other series premiere.
Elisabeth Moss stars in the adaptation of the novel by Margaret Atwood and attended the Tribeca Film Festival last month, where Hulu debuted the first three episodes.
"As we continue to expand our strong slate of original programming, The Handmaid's Tale is exactly the type of gripping and thought-provoking storytelling we want to bring to viewers," senior vice-president and head of content Craig Erwich said.
"We can't wait to explore the world of Gilead and continue Margaret's vision with another season on Hulu."
Hulu CEO Mike Hopkins announced the live TV streaming beta service, which arrives with more than 50 channels and costs $39.99 per month, including Hulu's existing $7.99-per-month premium streaming offering.
In other developments, Hulu has signed a content deal with Scripps Networks Interactive that gives users access to US networks like HGTV, Food Network and Travel Channel.
Two new series have joined the slate of original programming. Marvel's Runaways from executive producer Josh Schwartz and Stephanie Savage is an action series about six teenagers who dislike each other but unite against a common foe - their parents
Straight-to-series drama The First (working title) is created and written by Beau Willimon and centres on the first human mission to Mars.
The series will go into production later this year and is slated to premiere on Hulu in 2018. Westward Productions – founded by Willimon and producing partner Jordan Tappis – will own and produce The First, and Hulu, Channel 4 and IMG are co-financing.
Hulu has also secured exclusive streaming rights to FX series Atlanta starring Donald Glover and signed a partnership with Nielsen to extend Digital Ad Ratings to the living room, allowing Hulu to provide enhanced viewer metrics to advertisers.
"As we expand our business to offer live TV, we're also more than doubling our investment in original programming and exclusively licensed content to continue growing our premium streaming library," Hopkins said.
"Coupled with all of the new product and measurement solutions we're offering advertisers, Hulu is delivering the most compelling, engaging and valuable TV experience to consumers and brands alike."