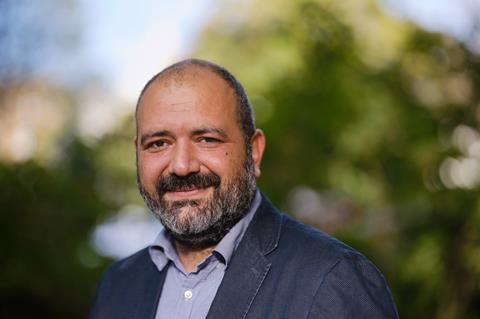 The 35th edition of International Documentary Film Festival Amsterdam (IDFA) is opening today (November 9) with the world premiere of Niki Padidar's All You See.

Laura Poitras is the 2022 guest of honour and the subject of the 2022 retrospective in which all seven of her films will be shown. She has also curated 10 films and will be in conversation with selected filmmakers in the festival's public programme. Poitras will also give a masterclass and discuss her Golden Lion-winning awards contender All The Beauty And The Bloodshed, about artist Nan Goldin's campaign to haul the Sackler family, owners and founders of Purdue Pharma and big art world philanthropists, to account for the marketing and sale of the drug Oxycontin and the terrible epidemic of addition it has helped to cause in the US.
Syrian-born artistic director Orwa Nyrabia has been at the helm since 2018. He talks to Screen about some of his key curatorial choices, why IDFA is hosting a debate called 'What gender is a film festival?', and the film he cannot watch.
Please tell us about your opening film, Niki Padidar's All You See, which details the treatment of immigrants living in the Netherlands. What would you like audiences to take from it?
All You See is a film that, really elegantly and in a very sincere and intimate manner, takes us to a place of self-examination. This film brings to the fore which is happening in every part of the world where people seek asylum. In countries that are the safe places of earth, we are very easily blaming things on the extreme right wing. We forget the daily behaviour of the most progressive can be quite hurtful to people of a different background. The critique of the extreme right is easy. The difficult thing is to look at ourselves in the mirror.
How has IDFA dealt with the programming challenge around showing films by Russian filmmakers following Russa's invasion of Ukraine?
It is a very big topic for us. We teamed with the Open Society Foundation so that we could dedicate a cycle of IDFA Bertha Fund [support] this year only for Ukrainian projects. We are inviting a large group of Ukrainian film programmers to join us at the festival. We believe that the absence of a Ukrainian voice in our curation and programming world is striking.
On the other hand, there are a couple of Russian films. We were extremely selective. In Envision, we have a film called Manifesto [by Angie Vinchito]. In international competition we have a French -produced film, Paradise [by Alexander Abaturov), and in Best of Fests, we have How To Save A Dead Friend [by Marusya Syroechkovskaya.] We thoroughly researched the funding and artistic sensibility before selecting the films.
Stéphane Malterre and Garance Le Caisne's The Lost Souls of Syria, a France-Germany co-production, is screening as a world premiere in Frontlight. It depicts deeply shocking imagery of those tortured and killed by Bashar Assad's regime in Syria. Does the film have a particular resonance for you given you yourself were arrested by that regime?
I must tell you I still did not dare to watch the film. I trust the team…for me personally it is very difficult to watch this. This is not a film for the likes of me. It's a film for everybody else!
What are you hoping to address in the debate called 'What gender are film festivals'?
The power we have as festivals we often abuse in a way that is similar to toxic masculinity. It is in the programming and curation - the way we understand our job as saying who is 'best' and what is the' best' film. Like the filmmakers, we are subjective. We curate and programme on the basis of who we are as groups. The best we can do is to create a very open and diverse group as the selection committee. Film is not a 100-metre race. There is no objective 'best' film.
Secondly, it's the way we treat the filmmakers, either as partners or as subjects. We receive thousands of submissions. This year, it was over 4,000. That's not only a question for IDFA but for festivals in general. Each of these filmmakers worked for years on these films we get to watch for two hours. Do we really watch it seriously? Do we respect the years [taken] to make this film?
This is about coming out from an old way of understanding our job into a space where we are more partners, with better camaraderie with the filmmaking community. To me, this is parallel to the question of gender because we can see that patriarchy is all about suppressing the voice of the other.