Victors on the night included Russian-French co-pro Jumpman and UK ghost story Martyrs' Lane.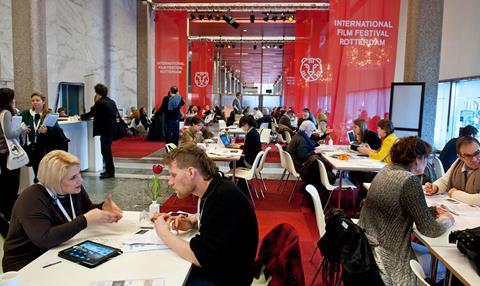 The 2017 edition of CineMart, the industry arm of the International Film Festival Rotterdam (IFFR), crowned its winners tonight (Feb 1) at a ceremony held at primary festival venue De Doelen.
A total of 26 projects from 24 countries participated in the 34rd edition of the long-running co-production market. Four prizes were handed out on the night.
The CineMart jury was comprised of Uldis Dimiševskis, head of production and development at National Film Centre of Latvia, producer Annamaria Lodato and Anton Scholten, co-founder of leading Dutch post-production and VFX house Filmmore.
The Eurimages Co-Production Development Award, worth €20,000, went to Jumpman, a Russia-France co-pro from writer-director Ivan I. Tverdovsky, his third feature following 2016 Karlovy Vary jury prize-winning Zoology and Corrections Class in 2014. Mila Rozanova of Moscow's New People Film Company is producing the project, which also has Guillaume de Seille of Paris-based Arizona Productions as a co-producer.
The film, which will be shot in Russian, tells the story of a young man who has recently been released from a psychiatric clinic. He makes a living running scams with a group of friends, faking accidents and making their victims pay to avoid ramifications. After the protagonist falls in love with one of his victims, he faces the possibility of change.
Uldis Dimiševskis commented on the decision: "The award goes to a project that through a seemingly simple story questions our ever-growing numbness evidenced so clearly in our societies today. In doing so, this young and talented filmmaker attempts to bridge a high quality filmmaking to a wider audience while further expanding and developing his cinema language."
The ARTE International prize, worth €6,000, went to Martin Eden, an Italy-France co-production from director Pietro Marcello (Lost And Beautiful). Gomorrah writer Maurizio Braucci has penned the screenplay, and Francesca Paolillo is producing the project, which has involvement from Rai Cinema. The Match Factory has already boarded to rep international sales.
The Italian-language film is based on Jack London's novel Martin Eden. It follows a 20-year-old labourer with a passion for reading who, on his way back from work one day, saves a young man from a violent criminal.
Presenting the award, Annamaria Lodato commented: "Our award is given to a talented filmmaker who has already been able to create a very personal universe. I was touched by the quality and originality of his previous work and by his sensitive artistic vision. He is now planning to make an adaptation of a beautiful novel dealing with class struggle, love, culture and political ideals."
The Filmmore post-production award, granted for the first time this year and worth €5,000, went to UK project Martyrs' Lane, the second feature from actress-turned-director Ruth Platt after 2015 horror The Lesson. The film is being produced by Christine Anderson and Alex Hurle for Ipso Facto Productions and has received BFI development funding.
The ghost story follows a nine-year-old girl living in a scruffy vicarage with her quiet and undemanding parents and her unstable sister.
Filmmore's co-founder Anton Scholten commented: "Martyrs' Lane is a deeply personal and original film about a family where something has gone terribly wrong. An unsettling ghost story and a psychological horror, but born out of character and painted relationships, not out of formula."
Elsewhere, the €5,000 Wouter Barendrecht Award, decided on by representatives of the Wouter Barendrecht Film Foundation, was presented to US project Ningdu.
Directed by debutant Lei Lei and produced by Isabelle Glachant, the project's production companies are Chinese Shadows and C-Ray Studio. The story is a family drama set during the 1950s-60s in the Chinese city of Ningdu.
Also crowned on the night was the winner of the first Propellor Film Tech Hub event, which saw two finalist projects pitched at the ceremony, with attendees voting for 'Tinder for movies' app CultureCues to take home the Canon Innovation Award.