Panelists debated how the film industry could break "the bubble" of traditional distribution and exhibition models.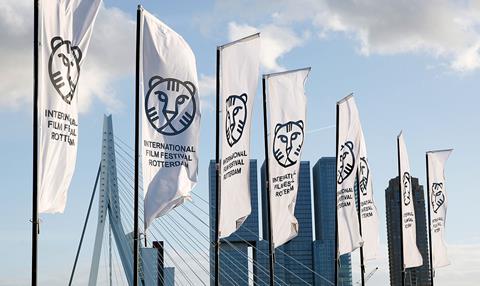 A panel on Tuesday (Jan 31) at Rotterdam International Film Festival (IFFR) addressed industry questions relating to the emergence of alternative methods of film distribution and the continued saturation of available content.
Speaking on the panel was Bobby Allen, vice president at arthouse streaming service MUBI, Eurimages executive director Roberto Olla, and Anke van Diejen and Noortje van de Sande from Dutch streaming service Filmthuis.
Moderated by industry and festival consultant Hayet Benkara, the panel discussed whether producers, distributors and exhibitors were adapting enough to the opportunities presented in the evolving film market.
Allen was particularly firm in his opinion that many in the film industry needed to do more thinking about how they could connect with potential audiences.
"We really need to see distributors, exhibitors and platforms working more closely together to look for more innovation, and more opportunities to connect films with audiences. We need to think about constant innovation of technologies and audiences. I don't think we're ever going to settle again into a normal pattern of distribution like we have had over the last 100 years. Producers, distributors, and exhibitors will be required to constantly change the ways they access the market," he added.
Olla said that he believed filmmakers and financiers are now required to look beyond traditional distribution methods to find the best platform for their films, "Many funds still believe that film must be celebrated in the temple of cinema. There's a huge quantity of content out there, Europe makes 1,600 films per year, but they cannot possibly all be put into theatres. In some countries the number of theatres is decreasing."
"I think we're living in a bubble. Most filmmakers come to Eurimages because they believe [their film] is quality, they believe it has to be made. But once the film is finished they already are thinking about their new project, because that is their business model, and they leave their project in the hands of distributors," he continued, suggesting that more joined-up thinking was required from producers, who should be considering the entire life of their films.
"The system provokes this vicious circle in which content is produced – and most of the films are worth producing - but for whom are we making them? Are we forgetting that film has a life because it is seen and enjoyed and the audience becomes a part of it?" Olla added.
Allen said that as distribution models begin to shift away from traditional theatrical, television, and home entertainment routes towards subscription and advertising led online, it would be those in the middle of the business who would feel the pinch.
"It's the middle men who are going to lose. The days of the high volume sales agent are numbered. What you need is more producer-sales agents, or for the producers themselves to think like distributors from the beginning.
"The good news is, if you're the producer and you're able to educate yourself in this, then you can cut out a huge number of people who are taking fees along the way. You can actually then benefit directly from the revenue that is going to come in," he continued.
Allen said that even his business MUBI, which has now been operating for 10 years since it was founded by Efe Cakarel, would need to adapt to industry changes.
The company has already begun branching out into theatrical distribution, acquiring theatrical and online rights to titles including Finnish Cannes winner The Happiest Day In The Life Of Olli Maki; as well as Bruno Dumont's Cannes competition title Slack Bay.
"We really believe in respecting the theatrical window, we want to maximise the number of people who see our films in theatre, but we don't respect the theatrical hold-back. We don't want to be traditional day-and-date, we want to show the films in the cinema and then on MUBI for 30 days," he commented.
Now, the company is looking even further down the chain. "I'm here [at IFFR] to meet with producers to talk about their projects. Even we can start investing equity into films, believe me we're going to do it more and more. Eventually I hope people will be thinking 'does this suit the MUBI audience?' when developing their films," Allen said.
Adding to the discussion, Anke van Diejen and Noortje van de Sande, whose company Filmthuis ('film at home') enables Dutch exhibitors to run streaming services on their own websites, echoed the ideas put forward about the need to look beyond the theatrical models and to find alternative revenue streams. With the sheer amount of content on offer, even if you were lucky to receive a theatrical release for your independent film, it was unlikely to be for longer than a couple of weeks, they said.