Speakers debated VR's place in the film industry, and how content can be successfully and profitably distributed.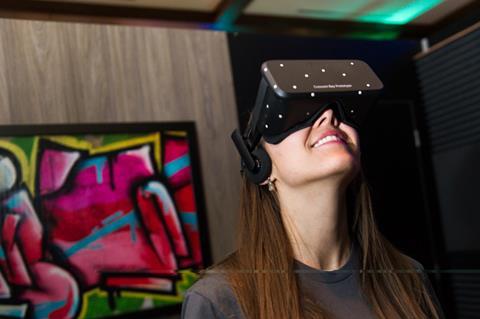 This year's International Film Festival Rotterdam (IFFR) provided a platform for attendees to discuss the ever-present topic of virtual reality, and its place in the film industry, at Wednesday morning's (Feb 1) VR Days session at CineMart.
Introducing the programme of talks and panels, festival director Bero Beyer admitted that in previous years the IFFR team had been sceptical about putting too much emphasis on what is still a fledgling medium.
"We were sceptical, we thought it was an intriguing spectacle. CineMart centres around people with good ideas. We thought that was the place to start, with the projects and ideas [for VR]. I'm very curious what will come out of this, whether [we will see results] in a month or a year," he commented in his opening remarks.
The event's moderator, VR Days organiser Benjamin de Wit, said that VR's creative potential was still a long way from being fulfilled. "We're still in early VR making, the grammar hasn't been developed yet. We want to compare VR to good film, theatre, opera, or an art experience," he stated.
Explaining that he had recently returned from the 2017 edition of Sundance Film Festival in the US – one of the most innovative film festivals when it comes to programming VR – de Wit said that he had been underwhelmed by this year's selection, with "only a few top pieces" on show.
Next up, creative director at LA and Amsterdam-based virtual reality studio Jaunt VR talked up the potential for VR: "It creates a whole new relationship between the viewer and the story."
However, he noted that distribution limitations meant that even the high quality content currently being created rarely fulfilled its audience potential.
He used the example of a piece created by Jaunt, Inside Trump's Head, a comedic experience published online in October 2016 that places the user inside an imagined version of then-presidential candidate Donald Trump's inner monologue.
"It should have gone viral but didn't because of limited access to the format. Two weeks ago [in January 2017], the same voice actor used in the VR experience made a similar video [not in VR] and that went instantly viral," he said.
Restrictions
It still remains restrictively expensive to access high-quality VR in-home, speakers noted, with users needing to acquire high-end technology and headsets before they can access most content.
Paul Mowbray, a VR producer and director at UK studio NSC Creative, was bullish about the medium's potential: "It has the potential to become the one medium that rules them all. Once you achieve that sense of presence for the viewer, the possibilities are endless in terms of what kind of stories we can tell."
Christian Stiegler, a lecturer from of Brunel University in London who is researching VR, emphasised that technology remains the key barrier to VR becoming mainstream: "The biggest problem we're facing at the moment is that the technology is still not there. You can wear the glasses from 20-30 minutes but after a while it takes some effort, and you need huge storage space [for the content] and special editing software, none of its there yet."
Asked to put a timeframe on when he thought the technology would catch up, Stiegler estimated that it would still take a further five years.
Content-wise, Stiegler suggested that European VR content makers should actively try to forge their own identity away from the burgeoning American industry: "There needs to be a European tradition for VR. The stuff coming out of America is super mainstream, Europe needs to be arthouse."
One crucial question that remains is whether VR is destined to be a filmic medium, or whether its more appropriate home is in gaming.
Mowbray suggested that collaborations between games and films could be a fruitful area for exploration: "That's where the possibilities haven't been explored yet. Cinematic VR is an experience that's mostly on the passive side. You want content to have interactivity, that's why we have VR."
Distribution models
In a later panel, a further selection of industry figures debated whether virtual reality's best potential for distribution lies in-home, or whether more traditional models, such as VR-dedicated cinemas, could work.
Jip Samhoud, a VR specialist who amongst other projects founded the VR Cinema in Amsterdam, insisted that his venture (said to be the first cinema space dedicated solely to VR) has already proven a success.
"We have been running our VR centre for one-and-a-half years and we see profit coming out of it," he said, adding that a percentage of that then flowed back to the content producers.
Thomas Gere, an entrepreneur and angel investor who has invested in VR, was quick to question whether VR cinemas represented a sustainable business model: "This is not going to bring much profit for the makers, but maybe it can market some of the movies and make it a scalable business."
"I can guarantee you that producers can make more money from our cinemas than from putting it free online," Samhoud hit back.
Camille Lopato, founder of VR cinema and events company DiversionCinema, added a producer's perspective: "It's nice to make a bit of money but it's not meaningful in terms of the production budget yet. But we do get data and feedback from audiences, which is important."