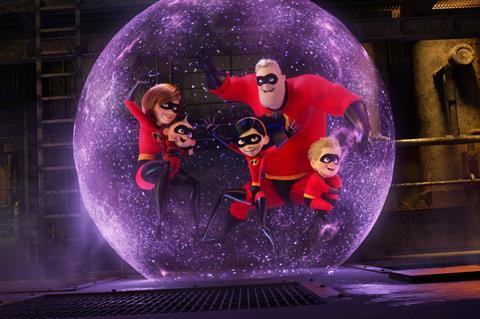 | | | | | |
| --- | --- | --- | --- | --- |
| Rank | Film / Distributor | Three-day gross (July 13-15) | Running gross | Week |
| 1 | 'Incredibles 2' (Disney) | £9.5m | £9.7m | 1 |
| 2 | 'Skyscraper' (Universal)' | £1.5m | £1.8m | 1 |
| 3 | 'Jurassic World: Fallen Kingdom' (Universal) | £816,321 | £38.5m | 6 |
| 4 | 'The First Purge (Universal) | £791,680 | £3.4m | 2 |
| 5 | 'Ocean's 8' (Warner Bros) | £520,000 | £9.7m | 4 |
Today's GBP to USD conversion rate - 1.33
Disney
After multiple weeks of hardship due to the good weather and interest in the World Cup, the UK box office finally has a hit. Disney Pixar animation Incredibles 2 opened with a £9.5m three-day and a total of £9.7m including some limited previews.
That's the second-highest opening for a Pixar film in the UK, behind only Toy Story 3, which opened with an enormous £11.5m three-day (£21.2m opening including previews) in July 2010. The result is doubly impressive considering that Incredibles 2 opened outside of the summer school holidays. The film's opening has nudged out Finding Dory (£8.1m), Toy Story 2 (£7.8m), and its predecessor The Incredibles (£6.3m three-day).
Toy Story 3 remains Pixar's best-performing title in the UK with a mammoth £74m total. Incredibles 2 is unlikely to beat that, but could set its sights on the total of The Incredibles, which ended its run on £32.3m.
Family comedy Patrick added £75,000 and is up to £970,000 to date. Avengers: Infinity War is up to £70.8m in the UK while Solo: A Star Wars Story is up to £19.4m.
Universal
Universal occupied 2-3-4 in the chart this weekend, with Dwayne Johnson action vehicle Skyscraper, starring Johnson as an FBI agent trying to save his family from a crumbling building in Hong Kong, debuting in second place with £1.8m, including £356,188 in previews, from 543 sites. That's an average of £3,337.
As the second highest-grossing movie star in the world (behind Mark Wahlberg, according to Forbes), Dwayne Johnson tends to lend box office quality to any film his name gets billed in. However, Skyscraper doesn't measure up to several of his recent releases in the UK.
Monster-themed action film Rampage, which was released in mid-April this year, opened with £4.1m including previews, while Jumanji: Welcome To The Jungle opened with £8.2m including hefty previews in December 2017, and Baywatch opened with £4.63m including previews in June 2017. In comparison, the Skyscraper result looks poor for Universal, with the World Cup and continued warm weather harming box office prospects. If the sun takes a break in the UK in the next few weeks, the film could yet had a good run.
Jurassic World: Fallen Kingdom dropped to third position in its sixth weekend, falling 56% with £816,321 taking it to £38.5m to date.
In its second weekend, The First Purge dropped a moderate 31% with £791,680. The film now sits on £3.4m, meaning it has surpassed the lifetime gross of predecessor The Purge: Election Year and matched the lifetime of original entry The Purge. It needs £1.2m to match top-grosser The Purge: Anarchy.
Warner Bros
Ocean's 8 dropped to fifth in the chart this weekend, adding £520,000 for a cume total so far of £9.7m.
Tag is up to £1.3m after adding £74,000 this weekend.
eOne
The Secret Of Marrowbone, Sergio G. Sánchez's horror-drama starring George MacKay, Anya Taylor-Joy, Charlie Heaton and Mia Goth, opened to £171,161 from its 383 sites, putting it sixth in the chart. That's a soft site average of £447.
Lionsgate
Sicario 2: Soldado is up to £1.8m after adding £128,346, leaving it some way off the original film's total of £5m.
US comedy Uncle Drew is up to £257,712, The Happy Prince is up to £721,708 and McQueen is up to £578,904.
20th Century Fox
Bollywood title Sanju is up to £1.2m after adding £96,072 in its third weekend. Deadpool 2 is now on £32.5m, while The Greatest Showman, still playing in 29 sites this weekend, is on £46.9m.
STXinternational
Adrift added £75,127 over the weekend and is up to £1.3m.
Picturehouse Entertainment
Paul Schrader's First Reformed, starring Ethan Hawke as a priest in New York, opened with £68,715 from 61 sites for a decent screen average of £1,126. Including previews, the film is on £73,197, placing it 13th in this week's chart.
The re-release of Beatles movie Yellow Submarine took a further £7015 from 31 sites and is now up to £170,097.
Sony Pictures
Hindi sports film Soorma, based on the life of hockey player Sandeep Singh, opened with £36,000 from 53 screens. Debra Granik's Leave No Trace dropped 31% with £25,000 and is now up to £212,000. Peter Rabbit is now up to £41m.
Vertigo Releasing
The Bookshop added £15,068 this weekend and is up to £235,344, while Rob Brydon's synchronised swimming comedy Swimming With Men is up to £170,707 after adding £22,254.
Curzon
Mary Shelley is up to £50,830, In The Fade is up to £64,506 and L'Amant Double has now reached £152,120.
Park Circus
Playing in 10 cinemas this weekend, the UK re-release of Alfred Hitchcock's Vertigo grossed £10,845.
Modern Films
Ex Libris: The New York Public Library, form veteran documentary filmmaker Frederick Wiseman, was released into 20 sites this weekend, 19 of which were single showings, taking £3,002. Modern Films plans to further roll out the film across the rest of the summer.