Industry panellists discussed the changing nature of the international film business during the NeXT Talks conference.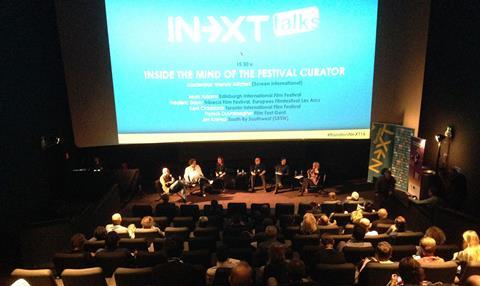 After two days of screening and pitches at its new NeXT event, Flanders Image also offered a day of NeXT Talks, designed to let visiting international experts share knowledge with Belgian attendees.
These talks covered dealing with the press, the position of Flemish cinema in France, the changing nature of film sales, and thoughts from festival programmers.
Clare Crean, head of sales for London-based The Works, advised Belgian producers to chose their sales partners carefully, noting the longevity of that relationship.
"Something that is not always understood is the longevity of the relationship between the producer and the sales company. When we come on board any film, it is usually for a long period of time, 15, 20, 25 years. We talk a lot about being involved at inception and at the financing stage, but also an awful lot of the role is the follow-up, it's delivering the film, it's creating the initial marketing materials, it's collecting the revenues. It's a much broader role," she said.
Alexandre Vanputte of Benelux distributor Lumiere noted the challenges of distribution in a world where new players are more powerful. "In one way they can get your project made but you are also just one item on their service… Beasts of No Nation was picked up for a lot of money then went off the radar."
He warned that traditional content creators could be hurt by the new digital finance structure. "There is money leaving the industry. Look at the VoD splits, look at the huge commissions iTunes is taking, and that's money that's not coming back to the industry. They are using our content to sell bandwidth, to sell products. Suddenly we are the third party, this is the dangerous thing with digital. Where is all the revenue going and will it come back? I'm not sure."
Nathan Fischer of Stray Dogs was more bullish on digital prospects especially for rising talents. "Talented filmmakers can make films on a reasonable budget, and the most important thing for them is that the film is watched worldwide. And that is made possible by Netflix and other platforms. It's about the right size of your project and knowing what you have in your hand."
Celluloid Dreams president Hengameh Panahi, speaking on the sales panel, was in a mood to look ahead to a brave new world. "I feel inspired to find new ideas. We're living in a period of transition, there is a paradigm shift which is a huge revolution. We can't imagine what is going to happen. In five years time, maybe there is no screen you are watching, the 2D screen is over…and our contracts haven't changed in 15 years, in 40 years, the waterfall, the percentage, while the economy of it has changed so much."
She said the "analogue, antique" value chain wasn't working anymore. "The audience wants everything now, immediately, on the device they want. There is a big gap between the way we offer content and the way the user wants to see content…Where there is some hope is the new system…it's fan-centric, everything is about building fan value. That's what Amazon, Netflix, Hulu, everyone online is doing. You have now to make a movie for a certain audience, for a targeted fan community."
How festivals are changing
Festival curators talked about how their events are evolving.
Mark Adams, artistic director of Edinburgh International Film Festival, said all festivals were adapting to industry changes. "The changing world we work in is forcing change on all of us, sometimes it's perspective, sometimes it's technical, it's relating to audiences, or the physical demands of spaces and venues, it's always changing."
Jim Kolmar at SXSW noted that one innovation there this year they have restructured their badging process. "If you go to the music festival you can access most of the film events, and the same across the board…we've done a lot to address the idea of convergence and how people come to the festival for one thing but want to learn from each other's disciplines," he said.
Patrick Duynslaegher of Film Fest Gent said that his festival had created part of its identity by bringing in the World Soundtrack Awards for many years. "Even if we are the biggest film festival in Belgium, we can never hope to get big Hollywood premieres…to choose this film music was very visionary. This part of the festival puts us a bit on the international map."
Toronto's Kerri Craddock talked about how the festival had added VR this year and television series two years ago. "That has allowed us to really play with how we show things. We've shown a whole 8 hour series in one go, people can just come and binge watch it in the cinema. We've shown pilot episodes. This year we had a Kenyan show from a film collective (Tuko Macho), where the audience could determine the ending – like those old 'Choose Your Own Adventure' books."
Most of these experts said they didn't expect for most festivals to become year-round distributors of content (Toronto is different with its Bell Lightbox year-round programming), somewhat due to the staffing and resources, and because that could be seen as competition to arthouse distributors and exhibitors.
Frederic Boyer of Tribeca and Les Arcs said festivals remain special because they bring people together. "I think a festival should be like Burning Man, 10 days and that's it. The idea of a festival is not only films, it's to meet people. In my mind, a festival should be like that."
Screen International was a media partner of the event.