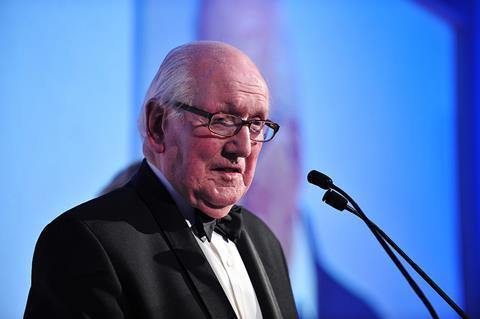 Eon Productions' Barbara Broccoli and Michael Wilson have led the tributes to UK distribution stalwart James Higgins, who died earlier this month aged 98.
"James Higgins was a legend, a true gentleman and a dear friend – he will be sorely missed by all of us who loved him," said Broccoli and Wilson.
Higgins was a legendary figure in the UK distribution sector, working for Paramount/CIC during the 1970s and then taking charge of United International Pictures (UIP) UK during the 1980s. He oversaw the release of many huge films into the UK marketplace, among them E.T. The Extra-Terrestrial, the Indiana Jones adventures, Jaws, Grease, Back To The Future and A Fish Called Wanda. He was close to Cubby Broccoli during the Roger Moore and Timothy Dalton era of James Bond films, a period when 007 was helping to keep the UK industry afloat.
After leaving UIP, he joined the board of Eon Productions. He was later president of the Society Of Film Distributors (SFD, now renamed the FDA) from 1991 to 1998.
Higgins was born in 1923 and was a former army officer before he began his film career with MGM in the early 1950s, licensing films to mining communities in south Wales. He was at the helm of UIP in the 1980s, a period when UK cinema-going had slipped to a record low of 54 million admissions in 1984, but which then began to rebound as multiplexes took root.
In 2012 Higgins received the outstanding contribution to the industry award at Screen International's marketing and distribution awards. The honour was presented to him by his close friend and protegé, Duncan Clark, the renowned Columbia, UIP and UPI exec who stood down from his position as president of international distribution at Universal last year.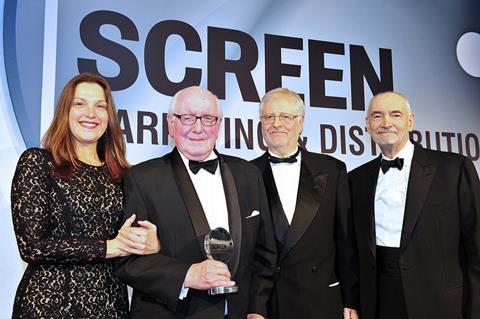 Clark, who was Higgins' marketing director at UIP UK, was among those paying tribute this week.
"James was very much an influence on my life just by the dint of his attitude, intellect and demeanour," said Clark. "He was a rare breed of personality in the world of UK film distribution. He was deceptive in a way. He was very well-educated. He had been a lieutenant in the Grenadier Guards. He was a well-bred individual… he was just very articulate, a very sophisticated guy, pragmatic, calm under whatever pressure came his way."
Clark suggested Higgins' softly-spoken manner and sense of humour were sometimes misconstrued. "He was very, I wouldn't say ruthless, but he had to do what he had to do."
Higgins, Clark continued, was highly regarded by his peers in distribution, the filmmakers he worked with and the UK exhibitors.
When UIP released Steven Spielberg's E.T. in the UK in late 1982, it was a runaway success. "It was a real joy but very stressful," Clark remembers of the film which reached UK cinemas several months after its launch in the US. "I remember that on the opening day Jim and I went down to the Empire, Leicester Square. It was a lunchtime. The place was completely jammed. We stood at the back and I quickly was moving away. Jim said, 'No, hang on Duncan, this happens so rarely in your career. Just savour it for a few minutes'."
Clark last saw Higgins earlier this summer. "I was hugely influenced by Jim not only as a budding executive. He was very much a father figure to me," Clark said. "He was revered and respected by those who worked against him and those worked for him."
Another former colleague, Chris Hedges, who succeeded Higgins as managing director of UIP UK, has vivid memories of Higgins' stint at UIP in the 1980s.
"It was a time of vital recovery for the [UK] theatrical sector. Jim undoubtedly led UIP UK with distinction and class," Hedges recalled. "That was a period which bridged the arrival of the multiplexes, which Jim embraced with sensitivity and efficiency. In that period of transition, Jim was unfailingly helpful and supportive to me and indeed to the staff in general. When he retired at the end of 1990, he went on to bring the same wisdom and statesman-like qualities to his presidency of the SFD. Those equalities included his legendary charm and fairness. He was a really, really nice man."
Andy Leyshon, chief executive of FDA, also paid tribute. "Fondly known in the industry as 'Gentleman Jim', James Higgins was a man of integrity and great courtesy and was much loved by those who had the privilege of working with him," said Leyshon. "Quietly influential, with a very dry sense of humour and great fun, he genuinely represented the best of the industry.
"Although he retired from the industry some 20 years ago, he retained a keen interest in the business and maintained contact with distribution, most notably attending the FDA's centenary event and a special lunch honouring his 90th birthday. The last of his generation of distribution executives, his passing leaves the business much dimmer."
"James was universally respected and admired for the job that he did," added former FDA chief executive Mark Batey.
Higgins was also heavily involved in charitable work for the Film and TV Charity (previously the Cinema & Television Benevolent Fund). A self-deprecating figure, he accepted early on that distributors were destined to stay out of the limelight. "No one ever hears of the distributor and no one has any idea of what the distributor does. The distributor is a very underrated character in the development, success or failure of the film," he once commented.
Higgins' wife Wendy pre-deceased him. His funeral service is at St. James' Church, Finchampstead, Wokingham, on Wednesday, October 27 at 13:00 BST.