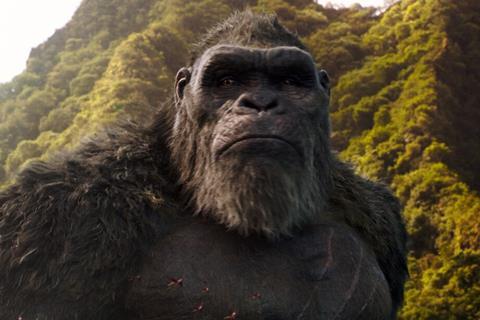 'Godzilla Vs. Kong' roars with $123.1m debut
UPDATED: Warner Bros and Legendary are celebrating the international debut of Godzilla Vs. Kong, robustly grossing a confirmed $123.1m, and topping the box office in all 38 of its opening markets. The "monsterverse" mash-up delivered the biggest opening for a Hollywood title in the pandemic era.
In like for like markets, advises Warner Bros, the film is tracking 13% ahead of Godzilla: King Of The Monsters (2019) at the same stage of its run, and 61% ahead of Godzilla (2014). The powerful comparison with the 2014 film is significantly down to Legendary's release in China, where Godzilla Vs. Kong began with $69.2m, as against $38.4m for Godzilla's debut. It's the biggest opening for a foreign title released in China in 2020 and 2021.
However, China is not the whole story. Mexico delivered a robust $6.5m, significantly the strongest opening of the pandemic era, and 20% ahead of Godzilla and 48% ahead of King Of The Monsters.
Australia likewise debuted with $6.3m, which is already ahead of the lifetime cumulative total of King Of The Monsters. Russia is close behind with a $5.9m opening session, surpassing the lifetime total of King Of The Monsters, and 46% ahead of Godzilla's opening number.
Rounding out the top 10 strongest opening markets for Godzilla Vs. Kong are Taiwan ($5.3m), India ($4.9m), Thailand ($3.3m), South Korea ($2.8m), Vietnam ($2.5m), and Malaysia ($2.1m). All figures were confirmed by the studio on Monday.
Imax punched above its weight, delivering $12.5m, which is nearly 10% of the global total and is the biggest Imax opening for a US film since December 2019. The $9.5m haul from China accounted for 14% of the total, from just 1% of the screens playing Godzilla Vs. Kong.
This Wednesday (March 31) sees the film open domestically in North America, in cinemas and on HBO Max. The UK – where cinemas remain closed – follows the next day via premium VoD.
Adam Wingard (The Guest) directs, with a cast led by Alexander Skarsgard, Millie Bobby Brown, Rebecca Hall and Brian Tyree Henry.
'Peter Rabbit 2' snatches $2.1m in Australia
Peter Rabbit 2: The Runaway began its international rollout with a strong start in Australia, debuting with an estimated $2.1m ahead of the coming Easter school holiday. That number is 24% below the debut of the original Peter Rabbit film (2018), which went on to achieve a lifetime total of $20.7m in Australia.
Australia has been one of the world's relative box office bright spots in recent months – which have, of course, been the country's summer season. Cinemas are open, albeit operating with restrictions. Peter Rabbit 2 is currently set to arrive in UK cinemas on May 21, and in Russia on June 4.
'Raya And The Last Dragon' adds $7.4m for $83m global total
Disney animation Raya And The Last Dragon delivered a decent hold in North America, declining 33% with estimated weekend takings of $3.5m, and a total so far of $28.4m. Overseas, the film was competing with Godzilla Vs. Kong in many markets, and with Peter Rabbit 2 in Australia. International weekend box office fell by 51%, with estimated takings of $3.9m, and a total to date of $54.2m. Global total is $82.6m.
After four weekends of play, top markets in cumulative totals are China ($18.7m), Russia ($10.9m), Australia ($4.4m), South Korea ($2.5m), Japan ($2.5m), Thailand ($1.8m) and Taiwan ($1.8m).
'Tom And Jerry' grabs $5.2m for $85m total
UPDATED: Second sessions in Japan and Saudi Arabia and an opening in Spain were the brightest spots internationally for Warner Bros' Tom And Jerry, which grossed an estimated $2.8m in North America (down 34%) and $2.7m overseas (down 36%). Respective totals are $37.2m and $48.5m, which combine for a global cume of $85.7m.
The top international market for the live-action/animation hybrid – also known as Tom & Jerry The Movie – was Japan, with a confirmed $999,000, followed by the Spanish debut on $519,000, and Saudi Arabia on $467,000.
In cumulative totals, China ($16.1m) and Russia ($7.9m) convincingly lead the pack, with Japan ($3.7m) in third place, and then Mexico ($2.5m) and United Arab Emirates ($2m). Saudi Arabi ($1.5m) moves up to sixth place, ahead of Colombia ($1.4m), Brazil ($1.2m), Singapore ($1.2m) and Ukraine ($1.1m).