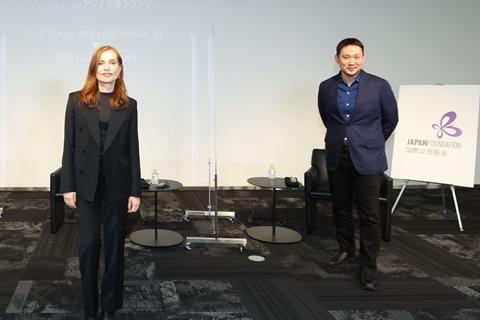 The Tokyo International Film Festival (TIFF, October 31-November 8) kicked off its second year of talks between filmmakers and actors, the Conversation Series at Asia Lounge, with an in-person conversation between actor Isabelle Huppert and director Ryusuke Hamaguchi.
The talk was prefaced with a short introduction by fellow filmmaker Hirokazu Kore-eda, the organiser behind the conversation series. Kore-eda praised both Huppert, who is serving as president of TIFF's competition jury, and Hamaguchi, whose films Wheel Of Fortune And Fantasy and Drive My Car reaped awards at both Berlin and Cannes this year – and gave a cheeky nod to himself for thinking up the Huppert-Hamaguchi pairing.
Kore-eda's instincts proved correct, as the two found a lot in common over the 90-minute talk. In asking each other questions and praising each other's work, both touched on the subtle ways in which actor and director play off each other.
"There's a certain mysticism and truth that's visible in Hamaguchi's films," said Huppert via an interpreter. She singled out one performance in Hamaguchi's 2015 film Happy Hour, in which an actor expresses herself without words.
"You can sense what's in her mind from her movements; you can sense what she's thinking," said Huppert. "It's the director's job to reflect what the actor is thinking. I first learned that from [Jean-Luc] Godard, and I think Hamaguchi does it wonderfully."
In response, Hamaguchi praised Huppert for her subtle acting style, which he described as "something between silence and words."
"Your expressions are nuanced, but at certain junctures there's an explosion of emotion, an explosion that comes out of the stillness. The ability to have that happen at any moment is an astounding achievement as an actor."
Huppert and Hamaguchi also touched on the ways that the presence of the camera directly affects performances and direction.
"Cinema is a single language," said Huppert. "The director talks to the actors through the camera position. If the camera is far way, the body matters; if the camera is close, it's the eyes that matter. The position of the camera provides the answer."
"My own mentor, Kiyoshi Kurosawa, said the same thing," responded Hamaguchi, who co-wrote Kurosawa's recent film Wife Of A Spy. "He told me that the director's job is to ascertain where to put the camera, when to roll and when to stop. It seems so basic, but as I continued to work with him I realised how important that is."
"When I watch your films, it feels so natural, like the camera isn't even rolling," continued Huppert. "How do you capture those moments?"
Hamaguchi replied that he sometimes finds the presence of the camera frustrating, and that it can sometimes "block something wonderful from happening," but that in cinema, there is no choice but to use it.
"When I accept that, sometimes I can achieve a certain level of greatness, but I still haven't figured out how to repeat it at will."
Meanwhile, Hamaguchi clearly relished in the opportunity to ask Huppert about working with certain directors, including Paul Verhoeven, Claude Chabrol and Maurice Pialat. He was also curious about fellow Asian director Hong Sang-soo, who directed Huppert in Claire's Camera in 2017, and who is known for long takes, short shoots and for delivering scripts to actors right before shooting.
"It was the most passionate experience in my career," said Huppert. "He's a very unique director, the way he saves time and how he writes dialogue, and the result is 1000% cinema. The shoot was only nine days, but it was totally immersive."
When asked by the audience whether she would like to appear in a future Hamaguchi production, Huppert was coy, stating, "I wouldn't want to announce a marriage in public." But it was obvious Huppert is an admirer of Hamaguchi's touch with actors, including in Happy Hour, in which all the leads were non-professionals.
"That's just amazing," said Huppert. "They were very innocent in a way, which is a wonderful trait. Professionals get so used to acting – this innocence is something that us pros need to find again within ourselves."