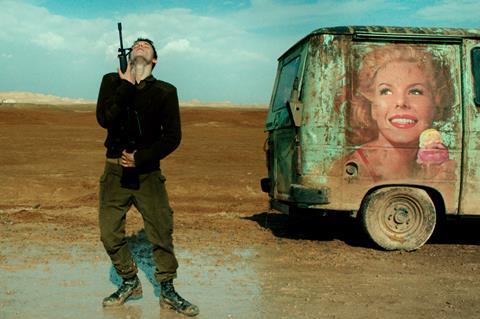 Controversial Israeli Culture Minister Miri Regev has lashed out at compatriot film-maker Samuel Moaz's Venice grand jury prize win for Foxtrot over the weekend.
The drama follows a family grieving over the death of their son while on active service with the Israeli Defence Forces (IDF), intertwining their side of the story with an account of the man's experiences while assigned to a remote checkpoint in northern Israel.
Regev, a former IDF spokewoman who has been part of Israeli Prime Minister Benjamin Netanyahu's right-leaning government since 2015, is up in arms about the way in which Israeli soldiers are depicted mistreating Palestinians in the film.
"When an Israeli film wins an international prize, my heart fills with pride and my natural desire is to strengthen and encourage Israeli success," she posted on her Facebook page on Saturday evening.
"This rule has one exception - the international embrace of self-flagellation and cooperation with the anti-Israeli narrative. The award received by Foxtrot in Venice… belongs to the exception."
In another statement put out on Saturday night, Regev said the film would give "a tailwind to BDS (the anti-occupation boycott group) and haters of Israel all around the world" and called for an end to the state-funding of films which criticised the State of Israel.
Foxtrot, which gets its north American premiere at the Toronto International Film Festival (TIFF) on Wednesday (Sept 13), is among a slew of high-profile Israeli productions funded by the Israel Film Fund currently hitting the festival circuit.
Other titles films backed by the fund at TIFF include Limor Shmila's Montana and Matan Yair's Scaffolding in the Discovery section and Contemporary World Cinema title Loving by Savi Gabizon. None of these films deal directly with the Middle East conflict.
Flying in the face of Regev's comments, Israeli President Reuven Rivlin, who was in Los Angeles over the weekend, said at a meeting with writers and directors that he would be watching the film.
"In general," he said. "I am a great fan of Israeli cinema, which is a symbol of freedom of expression and the strength of Israeli democracy.
"I did not watch the film, but I am going to watch it. I do not know if I will like it, but I will watch it as I try to watch every Israeli film."
Ongoing campaign
Regev has been on the warpath against Foxtrot and its funding by Israeli state film funds ever since its inclusion in the Venice and Toronto film festival line-ups was announced.
Her comments are part of a wider, ongoing campaign to influence the types of films that are funded with Israeli state money.
In August, she put out a statement saying it was "intolerable" that films which "disgraced the IDF's reputation" were supported by the Israeli Film Fund and were the selected to be "the showcase of Israeli cinema abroad".
Her comments were largely seen as a direct attack on the Israel Film Fund's long-time chief Katriel Schory, a respected figure at home and abroad who is at TIFF this week having stopped-off at Telluride to receive a Silver Medallion in recognition of his work.
Foxtrot director Moaz paid tribute to Schory as he received the Venice grand jury prize on Saturday evening.
"I would like to dedicate this award to Mr Katriel Schory, who stands like this lion and protects the freedom of speech and expression and the purity of art."
Funds autonomy under threat
The Israel Film Fund is among half a dozen bodies involved in meting out Israeli state funds to film and TV projects.
Under Israeli law, these funds operate with complete autonomy and without interference from the state but fears are growing throughout the local film-making community – and cultural sector generally - that this could be set to change.
Early this year, Regev launched an inquiry into the New Fund for Cinema and TV's funding of the documentary Megiddo, about the lives of Palestinians held in Israeli jails, and threatened to cut its state funding.
More recently, she ordered an audit of all the funds, to assess how different film and TV projects had secured state backing.
Under current legislation, Regev cannot directly meddle in funding decisions but some suggest she is trying to influence who gets onto the selection committees.
A recent move to cut funding to the Jaffa Arab-Hebrew Theatre over readings of letters by jailed Palestinian prisoners has also raised worries.
After complaints from Regev about the theatre's productions, the Finance Ministry is considering applying an obscure, hitherto unused clause in Israeli budget law, aimed at preventing the state funding of incitement to terror.
If this clause is applied and the cuts are enforced it will set a dangerous precedent for Israel's entire cultural sector.