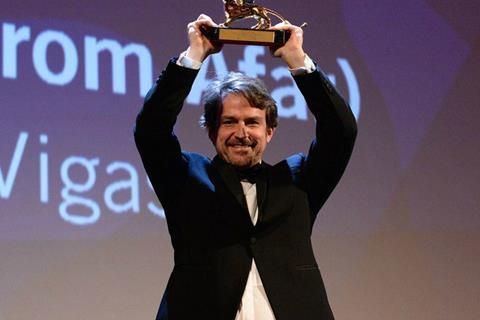 Los Angeles-based Ivanhoe Pictures has partnered with Mexico City-based Lucia Films to finance and produce drama The Box (La Caja), the second film from Venice Golden Lion winner Lorenzo Vigas.
The Box marks Vigas' follow-up to Venice 2015 winner From Afar and is based on a screenplay by Vigas and Argentinian filmmaker Paula Markovitch (El Premio).
The Spanish-language project is currently shooting in Chihuahua, Mexico, in 35 mm in association with film services group Labodigital and the support of Panavision Mexico.
Mexico's Hernán Mendoza (After Lucia) stars alongside newcomer Hatzín Oscar Navarrete in the story of a young boy on a mission to collect what he believes to be his estranged father's remains, who gets sucked into the underbelly of the migrant industry.
Lucia Film's Michel Franco and Jorge Hernandez Aldana are producing along with Lorenzo Vigas, while Ivanhoe principals John Penotti (president and CEO), Michael Hogan, and Kilian Kerwin serve as executive producers.
Ivanhoe, the local-language division of SK Global Entertainment, and Lucia began their association at the 2017 Los Cabos International Film Festival.
"We are excited that this alliance between these talented folks was forged at our festival," Los Cabos IFF general coordinator Alejandra Paulin said. "At Los Cabos IFF, we work to incentivise the collaboration between our Mexican talents and our neighbors from the north."
Ivanhoe has established a number of partnerships, including a four-year, multi-film co-financing pact with Fox International Productions to produce local-language films in India, South Korea, China, Japan, and Taiwan.
Alliances include a partnership with Blumhouse Productions and Mumbai-based Phantom Films to produce a slate of local-language genre films in India; and an additional deal with Blumhouse and Seoul-based distributor Showbox to make six Korean genre films over the next five years.
Past Ivanhoe projects include South Korean box office hit The Wailing from director Na Hong-jin, which remains the highest-grossing opening weekend for Fox in South Korea.
Upcoming projects include the comedy Crazy Rich Asians, a co-production with Warner Bros. from director Jon Chu starring Constance Wu and Michelle Yeoh that is set for release in the US on August 17. Ivanhoe has also acquired film rights to Ryan Graudin's young adult, action-adventure novel The Walled City, set in China's fabled Kowloon City.
Lucia Films credits encompass Cannes 2012 Un Certain Regard winner After Lucía, as well as Berlinale 2015 Best First Feature Award winner 600 Miles. Both were Mexico's foreign-language Oscar submission.
The company also produced Franco's Cannes 2015 best screenplay winner Chronic, From Afar, and Cannes 2017 Un Certain Regard jury prize-winner April's Daughter.