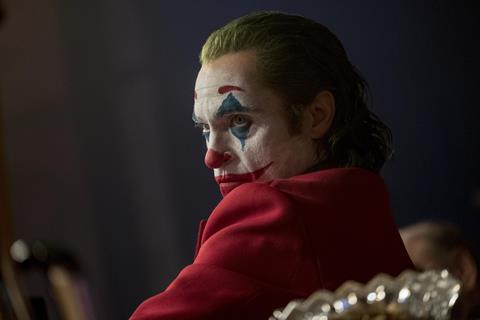 | Rank | Film (Distributor) | Three-day gross (Oct 11-13) | Total gross to date | Week |
| --- | --- | --- | --- | --- |
| 1 | Joker (Warner Bros) | £9.7m | £30m | 2 |
| 2 | Abominable (Universal) | £2.1m | £2.1m | 1 |
| 3 | Gemini Man (Paramount) | £1.7m | £1.7m | 1 |
| 4 | Judy (20th Century Fox) | £1.1m | £4.7m | 2 |
| 5 | Downton Abbey (Universal) | £948,923 | £25.4m | 5 |
Today's GBP to USD conversion rate: 1.25
Warner Bros
Todd Phillips' Joker posted an outstanding £9.7m on its second weekend, with a drop of just 22% the best of any comic book-inspired movie in 2019.
Playing in 677 locations (up from 668 last weekend), the film took an average of £14,507, which would be an excellent average for a first weekend, and is even more impressive for a second session.
It has already hit the £30m mark and is the seventh highest-grossing title of the year, with Aladdin (£37.2m), Spider-Man: Far From Home (£37.3m), and Captain Marvel (£39.5m) well within its sights.
Its second weekend hold was notably better than that of fellow 2019 comic book titles Alita: Battle Angel (-56%); Captain Marvel (-48%); Shazam! (-47%); Avengers: Endgame (-67%); and Spider-Man: Far From Home (-69%).

It is certain to end as Warner Bros. highest earner of the year.
It: Chapter Two added £117,000 for an £18.8m total so far; while The Goldfinch is slipping out of cinemas after just three weekends, with a 77% drop adding £11,000 to bring its total to £627,000.
Universal
Animated creature feature Abominable opened to £2.1m in 551 locations, for a £3,904 average. This is below the openings of 2019 animations Toy Story 4 (£13.3m), How To Train Your Dragon: The Hidden World (£5.3m), and Pokemon Detective Pikachu (£4.9m).
However, all of those are franchise titles with a pre-existing fanbase. Different comparisons are with Wonder Park, which started with £822,515; and Missing Link, which opened to £642,050. These results suggest Abominable's score is a decent one.
Former number one Downton Abbey is still performing well, falling 36% and holding a top five spot after five weeks with a £948,923 weekend. It is up to £25.4m, the ninth highest-grossing title of the year so far.
Fast & Furious: Hobbs & Shaw is up to £20.4m.
Paramount
Ang Lee's action film Gemini Man starring Will Smith started with £1.66m this weekend, with previews bringing it to £1.72m total. It had a £3,200 site average – the third-best in the chart after Joker and Abominable.
This is Lee's third-highest UK opening, after 2003's Hulk (£3.5m) and 2012's Life Of Pi (£2.8m).
Dora And The Lost City Of Gold added £129,000 and is at £6.3m.
20th Century Fox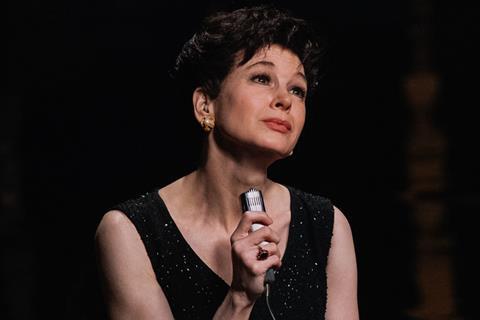 Judy fell a slim 27% on its second weekend, with £1.1m taking it to £4.7m to date. For comparison, this is a better second weekend hold than fellow music biopics Rocketman (53%) and Bohemian Rhapsody (40%), although they were coming from significantly higher first weekends.
Ad Astra dropped 67% on its fourth weekend, with £153,827 taking it to £5.9m. It has grossed significantly more than the UK gross of all director James Gray's previous films combined (£3.4m).
Horror Ready Or Not fell 70%, taking £75,684 for £1.9m in total.
STX
Hustlers continues to rustle up the cash on its fifth weekend slot, dropping 39% with £359,343 taking it to £6.9m cume.
Trafalgar Releasing
Event cinema specialists Trafalgar screened Puccini's Turandot – Met Opera 2019 on Saturday 12, with its £232,527 being the sixth-highest takings that day. It took £241,053 including encore screenings, which continue into this week.
Trafalgar also played encore showings of Metallica & San Francisco Symphony: S&M2. The concert title launched on Wednesday 9 to £414,294, took £97,815 from Friday to Sunday and is up to £516,033 total.
Disney
Disney's summer titles roll on, with The Lion King dropping 57% in taking £160,000 for £75.5m, and Toy Story 4 falling 46% with £132,000 bringing it to £65.9m. Next up is Maleficent: Mistress Of Evil, opening wide next weekend.
eOne
Chris Morris' second directorial feature The Day Shall Come started with £169,897 from 173 locations, for a low £787 average. This is well down on the £598,359 start of his first film Four Lions in 2010, which hit an excellent £5,292 site average from just 115 locations.
Sony
The Angry Birds Movie 2 added £82,000 and is at £5.5m, while Quentin Tarantino's Once Upon A Time… In Hollywood put on £37,000 for £21.3m.
Entertainment Film Distribution
Lulu Wang's The Farewell added £46,448 on its fourth weekend to take it to £751,209. Barring a late surge it will fall short of the £1m mark, but this still represents a strong score for a low-budget Sundance title.
National Theatre Live
Encore screenings of Screen Star of Tomorrow 2014 Phoebe Waller-Bridge's one-woman show Fleabag continue to bring in good money, adding £39,365 over the weekend to reach £3.8m total.
Lionsgate
Adewale Akinnuoye-Agbaje's directorial debut Farming opened to £21,994 from 36 locations, a £611 average.
Rambo: Last Blood added £43,824 for £2.8m; while Angel Has Fallen is closing out with £11,945 taking it to £7.5m.
New Wave
Ali Jaberansari's 2018 London Film Festival title Tehran: City Of Love opened to £7,230 from seven locations, a decent £1,033 average for a small title.
CinemaLive
An event cinema release of Billy Connolly – The Sex Life Of Bandages, the popular Scottish comedian's final stand-up tour, took £405,458 on Thursday 10. Encore screenings brought it to £435,442, with some sites still to report.