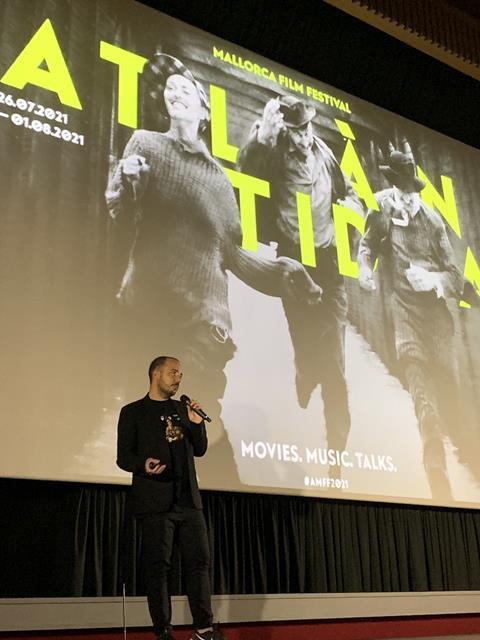 Judi Dench and Stephen Frears will be the guests of honour at this year's Atlantida Mallorca Film Fest (AMFF), run by Spanish SVoD platform Filmin with the Mallorca Film Commission. It is running as a physical, mainly outdoor, event from July 26 to August 1.
The UK's Dench and Frears, who worked together on Victoria & Abdul and Philomena, are both set to attend and will participate in a live masterclass on July 31. They will each receive the festival's Masters Of Cinema award.
The festival will open with Agustí Villaronga'a The Belly Of The Sea, which won six awards including for best film and best director at the Malaga Film Festival in June,Jaume Ripoll, AMFF's director and Filmin co-founder and head of content at Filmin, announced today.
The line-up also includes the Spanish premiere of Leos Carax's Cannes opener Annette, the European premiere of Marion Hill's Ma Belle, My Beauty, a look at polyamory that won the audience award in Sundance, and the world premiere of Doctor Portuondo, the first original TV series produced by Filmin. It is directed by Carlo Padial and stars Nacho Sanchez, Jorge Perrugorria and Berto Romero
The festival is also screening the European premiere of Matt Bissonnette's Death Of A Ladies' Man,, inspired by the work of Leonard Cohen and starring Gabriel Byrne. The screening will be preceded by a concert of the Mallorca singer Aina Zanogera performing some of Cohen's songs .
Documentaries screening at the festival include The Most Beautiful Boy In The World, about Björn Andersen, who played the young object of desire in Luchino Visconti's film adaptation of Death In Venice, and Gavin Rivoire' s Laurent Garnier: Off the Record,, where the French DJ and musical producer opens up about his career and personal life will also be at the festiva. Laurent Garnier is expected to attend.
Also screening is Jani Sever's Antigone, How We Dare! about philosopher Slavoj Zizek, who reflects on Europe, migration and populism using Sophocles' Antigone. Zizek will take part in an online in-conversation event.
The festival is also hosting the inaugural edition of Screen International's Spain Stars of Tomorrow, the latest addition to Screen's long-running talent-spotting series. Ten rising actors and filmmakers from Spain,all with the potential for breakout international careers, will be presented in Mallorca.
The restored edition of the 1925 silent classic El Jefe Político, believed lost for decades, will be shown at the closing ceremony. Directed by French filmmaker André Hugon and shot on Mallorca, El Jefe Politico tackles issues such as political corruption and the Spanish flu pandemic. The restoration was undertaken by the Sound and Image Archive of Mallorca and the Spanish Filmoteca.
With the aim of reaching a broad audience, all the open-air activities of the AMFF will be free and the tickets for screenings will have a reduced price of €3.