Universal's sequel posts biggest opening of the year, sixth biggest of all time at the UK box office and distributor's biggest of all time.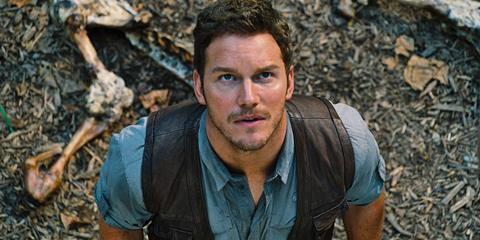 UNIVERSAL
Pummelling its competition into near-extinction, Jurassic World dominated the UK box office on its opening weekend.
Universal's sequel roared to an astonishing $30.2m (£19.35m), including $3.9m (£2.52m) in previews, with 38% coming from 3D and 9% from IMAX. That marks the biggest opening of the year to date, topping Avengers: Age of Ultron's $28m (£18.02m) which included $5.6m (£3.6m) in previews.
For Universal, Jurassic World achieved its biggest ever opening after also recording the distributor's biggest ever Saturday and Sunday results. It also meant that Universal has become the first distributor to open three films over £10m in a calendar year at the UK box office.
Overall, Jurassic World recorded the sixth biggest opening of all time at the UK box office, ahead of Harry Potter and the Chamber of Secrets' $29.3m (£18.9m) which included a hefty $13.4m (£8.6m) in previews, but behind Harry Potter and the Half Blood Prince's $30.7m (£19.8m) with $12.2m (£7.9m) previews.
Based solely on Fri-Sun takings, Jurassic World's $26.3m (£16.83m) ranks as the fourth biggest of all time, behind Harry Potter and the Deathly Hallows Part 2 ($36.9m/£23.75m), Skyfall ($31.3m/£20.18m) and Deathly Hallows Part 1 ($28.5m/£18.32m).
Jurassic World has already outgrossed the entire $28.4m (£18.3m) run of Jurassic Park III and will shortly overtake The Lost World: Jurassic Park's $40.1m (£25.8m) result. Jurassic World's target will be Jurassic Park's $74.4m (£47.9m) haul, or $75.8m (£48.8m) if you include its re-releases.
Should it manage to do so, it will also become the year's biggest film in the process, a record currently belonging to Avengers: Age of Ultron with $74.6m (£48.07m) to date.
Also for Universal, Pitch Perfect 2 added $635,000 (£409,000) for $26.1m (£16.79m) after five weeks in play.
FOX
Last week's champion Spy held well in the Jurassic World onslaught, falling 34% (excluding previews) on its way to a $2.4m (£1.5m) second weekend.
Fox's comedy is up to $8.6m (£5.5m), and could surpass The Heat's $10.9m (£7m) result by the end of this weekend.
Also for Fox, Home bucked the overall trend of this weekend by climbing 14% as it journeyed to $187,000 (£120,796) for $37.8m (£24.4m), while Hamari Adhuri Kahani posted a UK bow of $136,000 (£87,709) from its 51 sites.
Secret Cinema's production of The Empire Strikes Back has grossed $746,000 (£481,390) with takings from Saturday and Sunday still to come.
WARNER BROS
Posting a respectable drop of around 40%, Warner Bros' San Andreas is on the cusp of £10m following a $1.3m (£843,000) third weekend. The disaster thriller has now taken $15.4m (£9.9m).
Also for Warner Bros, Mad Max: Fury Road drove to an extra $614,000 (£396,000) for $25.6m (£16.5m) after five weeks in play.
EONE
Dropping one place to fourth, eOne's Insidious Chapter 3 scared up $1.1m (£692,000) for a ten-day tally of $4.3m (£2.8m).
Unless it holds well this coming weekend, it could now struggle to match the $10.8m (£7m) performances of the previous two films in the series.
PICTUREHOUSE ENTERTAINMENT / NATIONAL THEATRE
The adaptation of National Theatre's musical London Road enjoyed a UK opening of $330,000 (£213,249), including previews, from its 37 sites through Picturehouse Entertainment.
Over Fri-Sun, London Road grossed $87,000 (£55,968) with its top three sites being Arthouse Crouch End, Curzon Victoria and Olympic Barnes.
DISNEY
In its eighth weekend of release, Disney's Avengers: Age of Ultron shot to a further $252,000 (£162,000) for $74.6m (£48.07m) to date.
Also for Disney, Tomorrowland: A World Beyond fell 61% on its way to $188,000 (£121,000) for $7.7m (£4.97m) after four weeks in play.
DOGWOOF
Boosted by a live satellite event at 91 cinemas last night [June 14], Dogwoof's The Look of Silence grossed $82,000 (£52,600) from its 29 sites, including $2,300 (£1,487) in previews, on its UK opening.
The Act of Killing bowed with $34,000 (£22,090) from 17 sites and went on to take $205,000 (£131,966), including a record-breaking year-long run at London's ICA.
STUDIOCANAL
After three weeks in play, StudioCanal's Man Up has grossed $1.8m (£1.15m) after adding $78,000 (£50,148) this weekend.
CURZON FILM WORLD
Having previewed in London cinemas last weekend, Curzon Film World's Queen and Country posted a UK debut of $50,000 (£31,966) from its 49 sites.
NEW WAVE FILMS
Released in 15 sites through New Wave Films, West recorded a UK bow of $14,000 (£9,232).
UPCOMING RELEASES
This week sees saturation releases for Fox's The Longest Ride, Warner Bros' Entourage and eOne's Mr. Holmes.
Arrow Films' Accidental Love, Curzon Film World's Les Combattants and Soda Pictures' Natural Resistance are among the films receiving a limited release.