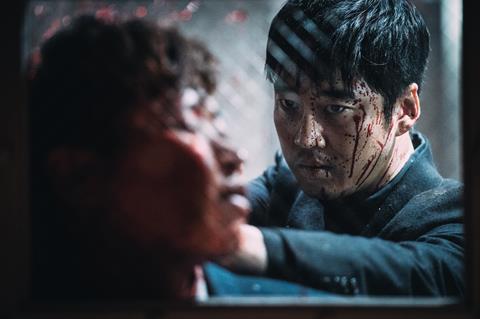 South Korea's K-Movie Entertainment has announced pre-sales on fantasy action film Spiritwalker and changes to The Outlaws sequel, newly titled The Roundup, with the film's star Ma Dong-seok (aka Don Lee) returned from shooting on Marvel's The Eternals.
Previously known as Out Of Body (working title), Spiritwalker sold to Taiwan (Catchplay), CIS and the Baltic States (New Film), Singapore, Malaysia, Indonesia and Vietnam (Clover Films Distribution), India, Middle East and Thailand (Paragon Films), the Philippines (Viva Communications) and world in-flight (Encore).
Directed by Yoon Jae-keun (Heartbeat), the film stars Yoon Kye-sang (The Outlaws), Lim Ji-yeon (Tazza: One-Eyed Jack) and Park Yong-woo (Unforgettable), the film is about a man who wakes up with no memory in a different body every 12 hours and has to make it back to his own.
From the producers of The Outlaws as well as The Gangster, The Cop, The Devil - BA Entertainment and Saram Entertainment – the film is in post-production.
The Roundup
Ma's first Korean film after shooting The Eternals in Hollywood, crime action film The Roundup has a new production schedule and is set to start shooting in March with a new director.
Debut feature director Lee Sangyong, who previously worked as assistant director on The Outlaws as well as films such as A Single Rider and Long Live The King, has replaced Kang Yun-sung, who directed the original.
Ma continues to play the relentless police detective who swept his city clean of gangsters from Harbin in the original. This time, Son Suk-ku (Hit-And-Run Squad) will play the villain in what is understood to be a production with increased scale and overseas locations.
Budgeted at roughly $11m, the film is produced by Hong Film and BA Entertainment, which produced the original.
They are setting their sights on a Chuseok (harvest moon festival) holidays release in the autumn, looking to replicate the success of the original's Chuseok release which clocked up more than $47m at the local box office in 2017. It also sold to multiple territories including Japan, Australia and New Zealand.