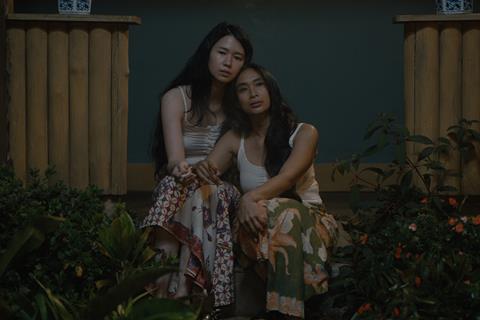 Bangkok-based film fund Purin Pictures has announced the recipients of its autumn 2021 funding round, including new projects from Indonesian filmmaker Kamila Andini (Yuni) and Singapore's Siew Hua Yeo (A Land Imagined).
Four narrative projects have been awarded production grants of $30,000, including Siew Hua Yeo's Stranger Eyes; French-Malaysian co-production You Are Here, directed by Joon Han Yeo; Thai director Ratchapoom Boonbunchachoke's A Useful Ghost and Sam from the Philippines' Erika Del Mundo.
A production grant of $15,000 has also been awarded to documentary Touch The Colour from the Philippines' Baby Ruth Villarama (see full details below).
In addition, Andini's upcoming period drama Before, Now And Then, produced by Ifa Isfansyah and Gita Fara, has been awarded a post-production grant of $50,000 in services.
Purin Pictures said that its autumn 2021 funding round had received interesting projects from all around the region, but in particular from Malaysia and the Philippines.
"We're seeing that the high number of submissions from certain countries directly reflects the level of local funding available in those countries to support their filmmakers," said Purin Pictures co-director Aditya Assarat. "Especially with higher-budget projects, the local funding needed to form the foundation of a multi-country co-production is crucial."
PURIN PICTURES AUTUMN 2021 GRANT RECIPIENTS:
Production Grants:
SAM – director: Erika Del Mundo, producer: Pamela Reyes, production company: Create Cinema (Philippines)
A drama about Sam, a woman who must come to terms with her involvement in a massacre, and the disappearance of her boyfriend, who recruited her for the crime.
STRANGER EYES – director: Siew Hua Yeo, producer: Fran Borgia, production company: Akanga Film Asia (Singapore)
A thriller about a voyeur who shadows a young couple that just lost their baby, until a turn of events leads the hunter to become the hunted in a dangerous imitation game.
YOU ARE HERE – director: Joon Han Yeo, producers: Joon Han Yeo, Franck Priot, production company: Amok Films (Malaysia, France)
A comedy about a disillusioned filmmaker who battles strange forces hell-bent on destroying him as he embarks on the production of another soulless mainstream movie.
A USEFUL GHOST – director: Ratchapoom Boonbunchachoke, producers: Cattleya Paosrijaroen, Soros Sukhum, production company: 185 Films (Thailand)
A comedy about a woman who returns from the dead as a ghost possessing the family's vacuum cleaner to get rid of dust and protect her allergy-prone son.
TOUCH THE COLOUR – director: Baby Ruth Villarama, producer: Gary Kam, production company: Voyage Studios (Philippines)
A documentary about two sisters who have served 18 years in prison for kidnapping and their chance for parole, if only the boy's mother will forgive them.
Post-production Grants:
BEFORE, NOW AND THEN – director: Kamila Andini, producers: Ifa Isfansyah, Gita Fara, production company: Fourcolours Films (Indonesia)
A period drama about Nana, who loses her family and her journey to build a new life as the wife of a wealthy older man in 1960s Indonesia.