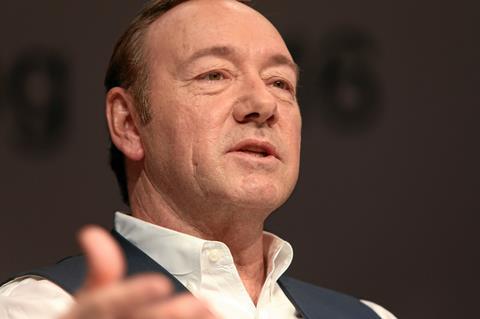 The pressure on Kevin Spacey intensified on Monday night (Dec 24) as the actor faced a felony charge for sexual assault on a teenager in 2016 at the same time as a bizarre video of Spacey in character from his former show House Of Cards appeared on YouTube.
According to reports that Screen had not verified at time of writing, Spacey is to be formally charged with indecent assault and battery on January 7 stemming from an alleged incident in a restaurant involving former TV news anchor Heather Unruh's then-18-year-old son.
Monday's development followed a December 20 magistrate's hearing.
Spacey has been accused of multiple incidents of sexual impropriety in the past year. On Monday an extraordinary video dropped on YouTube in which the actor appeared in character as Frank Underwood, the Machiavellian former US president on the Netflix show House Of Cards.
Afer Netflix fired Spacey in late 2017 in light of allegations, the show explained at the start of Season 6 that Underwood had died. However in the post, titled 'Let Me Be Frank', Spacey stands in a kitchen carving a turkey as he makes what would appear to be oblique references to his own life.
"[M]y confidence grows each day that soon enough you will know the full truth," said Spacey in the video, adding later: "Of course some believed everything. They're just waiting with bated breath to hear me confess it all. They're just dying to hear me say that everything was true and I got what I deserved.
"You wouldn't believe the worst without evidence, would you? You wouldn't rush to judgment without facts, would you? Did you? All this presumption made for such an unsatisfying ending and to think it could have been such a memorable send-off. I can promise you this: If I didn't pay the price for the things we both know I did, I'm certainly not going to pay the price for the things I didn't do."
He ends with, "You never actually saw me die, did you? Conclusions can be so deceiving. Miss me?"
Netflix had not commented at time of writing, although it is understood the streaming service had nothing to do with the video.