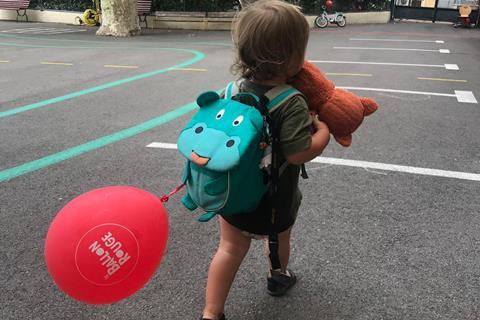 Le Ballon Rouge, a not-for-profit childcare initiative launched in 2019 by film professionals to support parents attending Cannes with their children, is reporting strong take-up of its services this year.
Taking its title from French director Albert Lamorissethe's 1956 classic medium-length film of the same name, the initiative is a joint venture between the Cannes Film Festival, the Cannes Marché and the Parenting at Film Festivals group.
It provides childcare facilities and also offers additional market badges for children and accompanying nannies and grandparents free of charge.
The initiative has proved particularly helpful during this year's Cannes due to the festival's later than normal July 6-17 dates, which coincided with the start of the school summer holidays in a number of countries.
A total of 35 families used its Le Ballon Rouge kindergarten and more than 100 families got free accreditations for family partners and carers.
Cannes attendees signing up for its services included Brazilian director Kleber Mendonça Filho, who is on the Competition jury this year, French producer and co-president of Collectif 50/50 Laurence Lascary and Dorothee Pfistner, head of acquisitions at Neue Visionen Filmverleih.
"I loved the sense of freedom that I had, being able to work and visit the nursery when I needed to breastfeed. I felt lucky to have the opportunity to attend the festival knowing that my baby was with me and taken good care of. My son never experienced nursery before and felt very comfortable from day one," said Lascary.
"We work in a culturally very rich and stimulating environment, but it is also very time-consuming and implies a lot of travels. Having the opportunity to share this experience with the family takes away a lot of pressure. Without Le Ballon Rouge I probably would have attended the festival a couple of days and I hope all major festivals and markets will offer daycare in the future," said Pfistner.
Due to the fact that French schools broke up for the summer in early July, Le Ballon Rouge was able to secure permission to base the kindergarten in a local school in Cannes this year.
"Because we had a wider space and more capacity. We offered the service to children between six months and 12 years," said Sarah Calderón, CEO of cinema marketing consultancy The Film Agency and co-founder of the Parent At Film Festivals group with Berlinale programmer Aurélie Godet.
The initiative uses a local nanny service specialised in pop-up kindergartens for events. The programme runs in English, French, German and Spanish.
Activities this year included water-based activities, music and dancing, craft and drawing and sport as well a trip to the market for a special animation screening.
Other festivals
The Parenting at Film Festivals group also runs similar initiatives at other festivals although its activities have been curtailed over the past two years due to the Covid-19 pandemic.
"The Red Balloon Alliance continues to have steady kindergartens in Cannes, San Sebastian and Berlinale. Once we establish financing sources, get more hands and help and the pandemic is finished, we'll expand to more festivals," said Calderón.
"Parenting at Film Festivals also gives consultancy support to Venice Kids Corner and Toronto Kindergarten. More recently we supported a shoot in Spain. We would like to expand these ways of cooperation. We have learned how to create these kindergartens so we can help people set up their own too."
Its next event is San Sebastian Film Festival (Sept 17-25), where it will run a kindergarten in the Museo San Telmo as in previous years.
The Le Ballon Rouge is supported by 18 pan-European and national institutions, including AFCAE, ADEF, the British Council, British Film Institute, CIMA, Cinando, Collectif 50/50, Creative Europe Media, Danish Film Institute, EAVE, Flanders Image, German Films, Lillydoo, MIOB (Moving Images – Open Borders), SEENL - Eye, Swedish Film Institute, TorinoFilmLab, Unifrance, Wallonie-Bruxelles Images and Mubi,