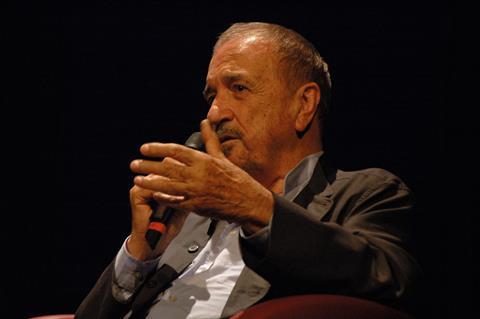 French screenwriter Jean-Claude Carrière, whose 60-year career spanned more than 150 writer credits and collaborations with Jacques Tati, Luis Buñuel, Milos Foreman and Louis Malle, has died in Paris aged 89.
Born into a family of winegrowers in south-western France, Carrière moved to the outskirts of Paris at the age of 14 when his parents took over the running of a bar.
After obtaining a degree in history and literature, he embarked on a writing career, publishing debut novel Lezard in 1957. Set against the backdrop of a restaurant in the suburbs, it was inspired by memories of his own adolescence.
Carrière made his first steps into screenwriting working on Tati's Les Vacances de Monsieur Hulot and Mon Oncle.
It was while working on the latter that he met his life-long friend and collaborator Pierre Étaux. The pair made their first forays into filmmaking together, co-writing and directing short filmsRupture and The Anniversary, that won the Oscar for best live-action short subject in 1962 as well as a Bafta, and his first feature credit The Suitor.
In 1964, he began working with Buñuel, co-adapting Octave Mirbeau's 1900 novel The Diary Of A Chambermaid
They would make another five features together, including the Oscar-nominated The Discreet Charm Of Bourgeoisie and That Obscure Object Of Desire as well as Belle de Jour, The Milky Way, and The Phantom Of Liberty.
Carrière was also Oscar-nominated alongside Paul Kaufman for The Unbearable Lightness Of Being in 1989. He finally took home the coveted statuette with an honorary career Oscar in 2015.
Other filmmakers who would regularly turn to Carrière throughout their careers included Jacques Deray (La Piscine, Borsalino), Milos Forman (Taking Off, Valmont), Volker Schlondorff (The Tin Drum, Swann In Love), Malle (The Thief, Milou In May) and Jean-Paul Rappeneau (Cyrano de Bergerac, The Horseman On The Roof).
Carrière worked most recently with Philippe Garrel on The Salt Of Tears, which world premiered in competition at the Berlinale in 2020, as well as his son Louis Garrel on his upcoming comedy The Crusade, which is in post-production.