Warner Bros' animation crosses £20m as it stays top of the chart; Artificial Eye's event release of Nymphomaniac grosses $237,000 (£142,922) from 74 sites for Lars von Trier's best-ever UK bow.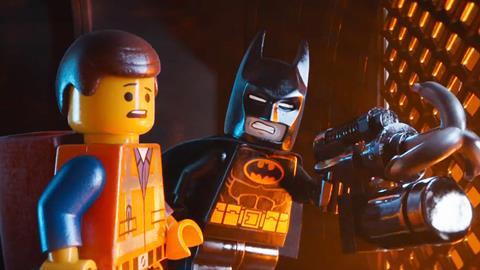 Everything is still awesome at the UK box office as The Lego Movie retained the lead for a second straight week.
Warner Bros' critically acclaimed animation added $10m (£6m) to comfortably stay at number one, a weekend performance slightly ahead of its opening Fri-Sun tally of $9.9m (£5.9m).
Half term was always going to be big following Lego's strong opening and so it proved, with Mon-Thurs grossing almost $13.3m (£8m). That means the film has already crossed the £20m mark and stands at $36.5m (£21.9m) to date.
As expected, it's already co-directors Phil Lord & Christopher Miller's best-ever UK performer and after this hold, it's just a question of how big The Lego Movie can go in the UK.
Despite a home entertainment release next Monday [March 3], Gravity is still pulling in the audiences at UK cinemas off the back of its multiple BAFTA wins. Warner Bros' critically acclaimed sci-fi posted over a 50% rise week-on-week to add $606,000 (£364,000) for $51.7m (£31.05m).
Landing in 328 sites through Warner Bros, A New York Winter's Tale posted a somewhat soft debut of $429,000 (£257,629) to chart outside the top ten in 13th.
FOX
Also enjoying a prosperous half term with almost $5m (£3m) banked on Mon-Thurs, Mr. Peabody & Sherman boosted 24% in its third weekend to climb to second.
Fox's 3D animation travelled to a further $2.8m (£1.7m) as it hit the £10m mark to stand at $17.4m (£10.5m). Its strongest day over the weekend came on Friday where it grossed almost $1.2m (£700,000).
In terms of recent DreamWorks Animation outings in the UK, this weekend sets it up nicely to overtake Turbo's $19.7m (£11.8m) tally.
Also for Fox, The Monuments Men fell a respectable 33% in its second weekend as it added $1.9m (£1.1m) to chart fourth.
With a running total of $6.8m (£4.1m), the film is now George Clooney's strongest-ever directorial performance in the UK overtaking The Ides of March's $5.2m (£3.1m) result.
DISNEY
Flying up three places to third, Tinker Bell and the Pirate Fairy lifted 24% in its second weekend to take $2m (£1.2m), with 93.51% of its weekend gross coming from 2D screenings.
With around $2.7m (£1.6m) added over the half term, Pirate Fairy has now sailed to $6.3m (£3.8m) after ten days in play and should shortly overtake Tinker Bell and the Secret of the Wings' $7.4m (£4.4m) UK result.
Frozen isn't yet giving up its attempt to hit the £40m mark in the UK. After becoming the UK's highest grossing original animation of all time last week, Disney's Oscar contender enjoyed a 49% uptake in its 12th weekend to gross $700,000 (£420,182) for $64.2m (£38.6m) to date.
STUDIOCANAL
Now in its third week of release, RoboCop rounded off this week's top five with $1.5m (£890,907). StudioCanal's reboot is now up to $11.7m (£7.04m) in the UK with a £10m result not out of the question.
Falling over 50% in its second weekend, Cuban Fury added $701,000 (£422,303) from its 370 sites and has now danced its way to $3.2m (£1.95m) through StudioCanal.
UNIVERSAL
Dropping a slim 36% in its sixth weekend, The Wolf of Wall Street is set to become the UK's highest grossing 18-rated film of all time.
Universal's biopic earned $1.2m (£719,000) to climb to $34.9m (£20.95m) in the UK, narrowly behind current record holder Hannibal's $35.5m (£21.6m) result. The Wolf of Wall Street should cross that by the end of next weekend at the latest.
Also for Universal, remake Endless Love fell a hefty 65% in its second weekend to add $438,000 (£263,000) for a ten-day tally of $2.5m (£1.52m).
EONE
12 Years a Slave enjoyed a little post-BAFTA boost as it grossed $918,000 (£550,389) in its seventh weekend through eOne. Steve McQueen's Oscar contender is now up to a highly impressive $29.5m (£17.7m) in the UK. Don't rule out £20m just yet.
Also for eOne, Dallas Buyers Club stands at $5.6m (£3.3m) following a $758,000 (£454,319) third weekend. It still has an outside chance of becoming director Jean-Marc Vallée's best-ever UK performer, currently The Young Victoria's $8.3m (£4.96m).
That Awkward Moment has amassed $4.4m (£2.7m) after four weeks in play.
ENTERTAINMENT
Falling around 50% in its second weekend, Her took a further $358,000 (£215,387) for a ten-day total of $1.6m (£935,146) through Entertainment.
ARTIFICIAL EYE
Receiving a one-off event release in 74 sites on Saturday night [Feb 22], Lars von Trier's two-part Nymphomaniac whipped up $237,000 (£142,922) through Artificial Eye.
Despite its limited nature, that marks the best-ever UK debut for von Trier ahead of Melancholia's $221,000 (£132,437) from 58 sites, which included $21,000 (£12,866) in previews.
SODA PICTURES
Only Lovers Left Alive took a $206,000 (£123,989) bite, including previews, out of its 69 sites through Soda Pictures on its UK bow. That marks director Jim Jarmusch's second biggest UK debut behind Broken Flowers' $659,000 (£395,880) bow, including previews, from 95 sites.
LIONSGATE
Expanding to 169 cinemas nationwide, The Invisible Woman added $175,000 (£105,032) for $783,000 (£470,208) to date through Lionsgate.
It'll require a similar hold if it's to top Ralph Fiennes' directorial debut Coriolanus' $1.4m (£843,505) UK result.
PECCADILLO PICTURES
Opening in 23 sites (six of which were one-off shows) through Peccadillo Pictures, the award-winning Stranger by the Lake posted a non-final UK debut of $59,000 (£35,404).
SONY
Opening in 50 sites (including 23 IMAX) through Sony, Russian box office smash Stalingrad recorded a $55,000 (£33,289) UK bow.
UPCOMING RELEASES
This week sees saturation releases for Fox's The Book Thief [opens Feb 26], StudioCanal's Non-Stop and Universal's US box office hit Ride Along.
eOne's We Are What We Are and Warner Bros' Unforgiven are among the films receiving a limited release.