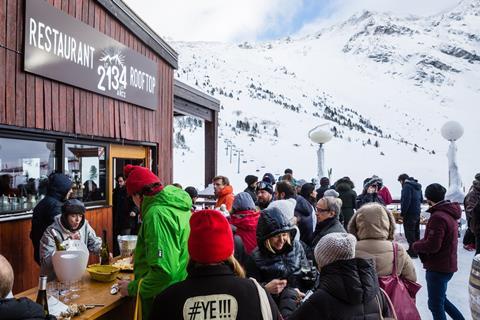 Cannes' Critics Week winner Laura Ferrés' debut feature The Permanent Picture and the new film from Tribeca winner Elina Psykou are among 14 feature projects in post-production selected for the 2022 in-person edition of the Les Arcs Film Festival Work in Progress session.
The annual industry event designed to help projects find international sales agents, distributors and festival premieres will run on Sunday, December 11 as part of the Industry Village at the 13th edition of the festival (December 11-19).
Scroll down for the full list of projects
This year, eight projects are directed by women, plus one co-directed project. Organisers received 160 submissions for the final selection of which 39% were directed by women. Eighteen different countries are represented in the final selection that includes five first features and two second films.
The Permanent Picture is Ferrés' first feature after winning the 2017 Cannes Critics Week short film prize for The Disinherited. The film is a co-production between Spain's Fasten Films and French-UK outfit Le Bureau and is still without an international sales agent. It is co-written by director Carlos Vermut, whose Magical Girl won San Sebastian's Golden Shell in 2016.
Ferrés has described the film about a casting director on a mission to find a 'normal' person to take part in a political campaign as a "depressing comedy."
Other first feature projects include Italian director Emilia Mazzacurati's Billy, Spanish filmmaker Victor Iriarte's Foremost by Night, Swedish director Sarah Gyllenstierna's Hunters On A White Field and Greek director Orfeas Peretzis' Riviera.
Greek writer-director Psykou will screen her latest film Stray Bodies, produced by Greece's Jungle Films alongside Anemon Productions, Sweden's Contrast Film, Italy's Doc Lab and Bulgaria's Red Carpet. Psykou's Son of Sofia won the best international narrative feature at the Tribeca Film Festival in 2017.
Daria Onyshchenko is representing Ukraine with Malevych produced by Ukraine's 435 Films and Big Hands Film alongside Sweden's Lehmann Sisters.
Excerpts from each film will be screened for industry professionals including sales agents, distributors and festival programmers followed by an awards ceremony the following day.
The Work-in-Progress projects will compete for three awards: the Titra-Film post-production award worth €10,000; the Alphapanda film marketing award worth €5,000; and for the second year, the 22D music composition award worth €10,000.
French distributor Jour2Fete and international sales company The Party Film Sales will host an out of competition screening of Icelandic director Ninna Palmadottir's Solitude (working title). The film was first presented at Les Arcs Co-production Village in 2021 where it won the ArteKino International prize. Also screening out of competition in the section is Belgian director Koen Mortier's Skunk, produced by Czar Film and Baldr Film and presented at the event in partnership with Flanders Image.
The Industry Village events at the snowy mountain destination also include the Co-Production Village and the Talent Village for projects in development as well as the Music Village.
Previous selections in the Les Arcs Work in Progress strand include Lukas Dhont's Girl, which went on to win four awards at Cannes 2018 and last year's work in progress feature David Wagner's Eismayer (Austria) that will screen as part of Les Arcs festival's Official Competition this year. Veerle Baatens' When it Melts also screened at the 2021 event. The Belgian filmmaker and actress will be honored at the upcoming 2022 event complete with a masterclass and screenings of her work.
The Les Arcs Film Festival runs December 11-19.
Les Arcs 2022 Work in Progress
Billy (It)
Dir: Emilia Mazzacurati
Prod co: JoleFilm
Foremost By Night (Sp)
Dir: Victor Iriarte
Prod cos: La Termita Films, 4 x 4 Productions, Atekaleun, CSC Films, Ukbar Filmes
Fuga (Peru-Bel)
Dirs: Mary Jiménez, Bénédicte Liénard
Prod co: Clin d'Oeil Films, Tu Vas Voir, Perpetua Films, SNG Studio
Hunters On A White Field (Swe)
Dir. Sarah Gyllenstierna
Prod. MostAlice film
Legua (Por)
Dir: Filipa Reis, Joao Miller Guerra
Prod cos: Uma Pedra No Sapato, KG Productions, Laranja Azul, Stayblack Productions
Malevych (Ukr)
Dir. Daria Onyshchenko
Prod co: 435 Films, Big Hands Film, Lehmann Sisters
Riviera (Gr)
Dir. Orfeas Peretzis
Prod cos: StudioBauhaus, KG Productions
Rossoperanza (It)
Dir: Annarita Zambrano
Prod cos: Mad Entertainment, Rai Cinema, TS Productions, Minerva Pictures
Stray Bodies (Gr)
Dir. Elina Psykou
Prod co: Jungle Films, Contrast Film, Doc Lab, Red Carpet, Anemon Productions
The Invisible Fight (Est)
Dir. Rainer Sarnet
Prod cos: Homeless Bob Production, Neda Film, White Picture, Helsinki Filmi
The Permanent Picture (Sp-Fr)
Dir. Laura Ferrés
Prod. Fasten Films, Le Bureau Films, Volta Produccion
Veni Vidi Vici
Dir: Daniel Hoesl
Prod co: Ulrich Seidl Filmproduktion