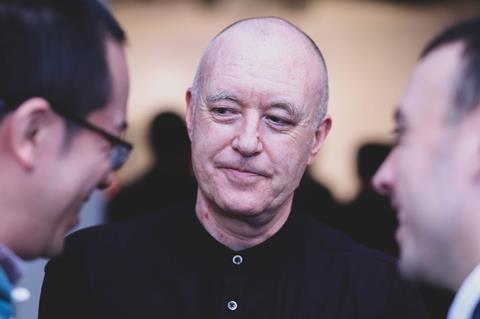 Tom Abell, founder and managing director of the UK's Peccadillo Pictures, was presented last night (April 11) with the inaugural Iris Fellowship, honouring those who have made a significant contribution to the LGBT+ film industry.
The award is an extension of the Iris Prize, which awards £30,000 annually to the best short film shown at Cardiff's LGBT+ Iris Prize Film Festival, with entries selected by multiple international partner festivals, and £20,000 to the best British short. The prizes are supported annually by a £50,000 donation by the Michael Bishop Foundation.
Abell launched the UK's first LGBT film distribution company, Dangerous To Know in 1992 – serving a then-untapped market with video cassettes of titles such as gay teen romance Two Of Us (originally made for the BBC's education unit) and 1971 erotic fantasy Pink Narcissus. He also packaged shorts under the brand Boys On Film – a compilation series that endures to this day.
Abell launched Peccadillo Pictures in 2000, distributing world cinema alongside LGBT titles. The company scored a breakthrough in 2011 with Andrew Haigh's Nottingham-set gay drama Weekend, overcoming initial scepticism from UK cinemas and grossing £222,000. The success paved the way for films such as Francis Lee's God's Own Country, distributed in the UK by Picturehouse Entertainment.
Colleagues, filmmakers and industry peers gathered at London private members club Ministry to see Michael Bishop, Lord Glendonbrook present Abell with the fellowship. These included former Peccadillo team member and Lilting director Hong Khaou; and Neil Hunter and Kanchi Wichmann – directors respectively of Peccadillo titles Boyfriends and Break My Fall.
Oral tributes came from Weekend actor Chris New and Stud Life director Campbell X. Filmed clips included tributes from Francis Lee and Wash Westmoreland (Still Alice, Colette), whose husband Richard Glatzer (who died in 2015) directed 1993 comedy Grief, distributed by Abell in the UK.
Also included in the montage were Sauvage director Camille Vidal-Naquet, Theo & Hugo directors Olivier Ducastel and Jacques Martineau and Two Of Us director Roger Tonge – who collectively praised Abell for his "kindness", "passion for cinema" and "generosity".
In accepting the award, Abell spoke also of the challenges facing an LGBT distributor, even in the UK today, lamenting hostile social media comments directed at current Peccadillo release A Deal With The Universe, Jason Barker's documentary about his own experiences as a trans man putting his gender reassignment on hold in order to carry and give birth to a baby.