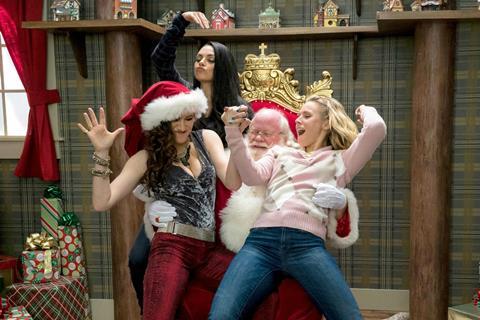 Robert Simonds, STX chairman and CEO, said on Thursday (November 30) that TV and broadband giant Liberty Global has invested in STX and chief programming officer Bruce Mann will take a seat on the board.
While sources declined to specify the amount of the deal, Screendaily understands the investment is at same valuation as those by Tencent and PCCW.
Mann directs overall content strategy and annual programming spend at Liberty Global and oversees content investments. Prior to joining the company he served as CEO at XYZ Networks, a joint venture between Liberty Global and News Corp.
The executive has also held senior roles in media and sports at TVN, Austar Entertainment, Time Warner, E! Entertainment and The Washington Redskins.
The STX board comprises top brass from private equity firms TPG and China-based Hony Capital, as well as Tencent, the Chinese internet giant, PCCW, Gigi Pritzker and Dominic Ng, among others.
"Having one of the world's biggest content distributors incentivized in STX's continued success is gratifying confirmation of our brand and business strategy," Simonds said. "We look forward to benefiting from Bruce and Liberty Global's counsel to accelerate our plans for expansion."
Mann added: "I am so pleased to be part of the team that made this investment in STX. In this unprecedented and transformative time in our industry, it is more imperative than ever to align with the best partners and most forward-looking leaders.
"With Bob, the STX team and its other sophisticated investors, I can't think of a more proven group to chart the course for the future of entertainment."
STX's film division recently released US-China co-production The Foreigner starring Jackie Chan and A Bad Moms Christmas (pictured) ahead of the December launch of Molly's Game with Jessica Chastain.
On the television side, STXtv just announced Valley Of The Boom, which will premiere worldwide on National Geographic. The VR division signed deals to become the exclusive VR and 360 content provider for Horizon Media and has become the only VR company get a dedicated channel on the Google Daydream platform.