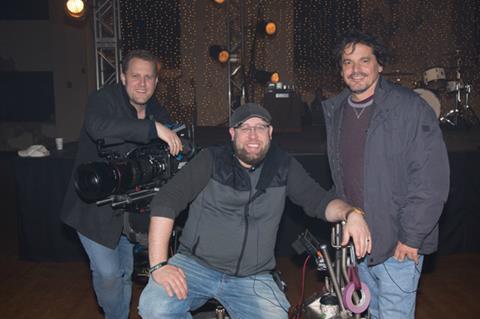 Lionsgate has struck a multi-platform film and television first-look deal with Andrew and Jon Erwin and producing partner Kevin Downes, the team behind I Can Only Imagine.
The Erwin Brothers and Downes (pictured) will develop, produce and direct features and TV for the company under their newly created Kingdom label.
The deal follows Lionsgate's ongoing successes in the faith-based sector on releases like Hacksaw Ridge, The Shack, and most recently, I Can Only Imagine, the highest grossing film in Roadside Attractions' history that opened in March and grossed $83.5m.
"We're proud to expand our relationship with Andrew, Jon and Kevin through this exciting and collaborative, cross-divisional partnership," said Lionsgate motion picture group chairman Joe Drake and television group chairman Kevin Beggs in making the announcement on Thursday (August 9).
"This deal underscores our ongoing commitment to serve moviegoers with premium, faith-based content. We look forward to working with the Erwin Brothers and Kevin on film and television projects that resonate not only with the faith-based community but with viewers everywhere."
"Our dream for launching Kingdom is to create the most trusted and respected brand in faith-based entertainment," said Jon Erwin. "We needed a partner that would catch that dream with us and Lionsgate is the perfect fit. They aren't like any other studio we've ever worked with and they have a passion to empower creative entrepreneurs. We can't wait to work together on some exciting new projects."
"Our creative ambition and directing sweet spot is to tell redemptive, inspirational stories that appeal to audiences everywhere," added Andrew Erwin. "We need optimism and hope more than ever today, and those are the stories we love to tell."
"We're thrilled to begin this new venture with Joe, Kevin and the rest of the incredible Lionsgate team," said Downes. "We have seen firsthand how Lionsgate champions an artist's individuality and creativity. They have a proven track-record for reaching targeted audiences with diverse, high-end content and we could not be more thrilled to call Lionsgate our new home."
The Erwin Brothers and Downes join Lionsgate's portfolio of creative partnerships that includes Paul Feig, Eugenio Derbez, Kevin Hart, Eric and Kim Tannenbaum, Justin Simien, Courtney Kemp,Yvette Lee Bowser, Ed Zwick and Marshall Herskovitz, and John Goldwyn, among others.
Motion picture group's president of acquisitions and co-productions Jason Constantine negotiated the deal for Lionsgate alongside executive vice-president of acquisitions and co-productions Eda Kowan, executive vice-president of business and legal affairs Bonnie Stylides, and senior vice-president of business and legal affairs Adrian Lopez.
The Erwin Brothers and Downes are represented by WME's Dave Wirtschafter and Matthew Johnson at Ziffren, Brittenham.