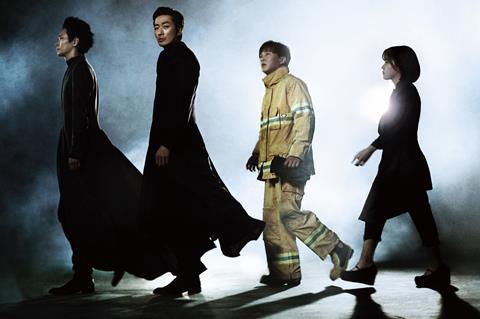 Korea's Lotte Entertainment is launching sales in Busan on fantasy drama Along With The Gods – The Two Worlds, starring a hot ensemble cast including Ha Jung-woo and Cha Tae-hyun.
Directed by Kim Yong-hwa (Mr. Go, 200 Pounds Beauty), the film tells the story of a firefighter who dies and is taken to the afterlife by three guardians. He has to pass seven trials before he can be reincarnated, with the guardians by his side to defend him in the trials.
The film's star-studded cast also includes Ju Ji-hoon (Asura: The City of Madness), Kim Hyang-gi (Proof Of Innocence), Lee Jung-jae (Operation Chromite) and Doh Kyung-soo of Korean-Chinese pop band EXO.
Ha Jung-woo's recent credits include hits such as Tunnel, Assassination and The Handmaiden, while Cha Tae-hyun starred in My Sassy Girl and more recently appeared in hit TV series The Producers.
Lotte will introduce the film at the Asian Film Market (October 14-17), where it is also selling black comedy Room No. 7, directed by Lee Yong-seung (10 Minutes). Also starring Doh Kyung-soo, along with Shin Ha-kyun (The Villainess), the film revolves around a man who stashes drugs in a DVD parlour, only to find that his boss has hidden a dead body in the same room.
Room No. 7 is scheduled for Korean release in November, while Along With The Gods will open on December 20.
Other new titles on Lotte's Busan slate include Cho Kuen-hyun's period drama Heung-boo: The Revolutionist, starring Jung Woo (New Trial), Kim Joo-hyuk (Confidential Assignment) and Jung Jin-young (Pandora). Scheduled for release in the first quarter of 2018, the film follows the author of a satirical street play as he tackles an oppressive regime and the rebel leader who wants to use him for his own agenda.
Lotte also has two new titles in productions: Lee Jang-hoon's fantasy romance Be With You (working title), starring So Ji-sub and Son Ye-jin; and Kim Dae-woong's comedy drama Love+Stling (working title), starring Yoo Hai-jin, Kim Min-jae and Lee Sung-kyung.