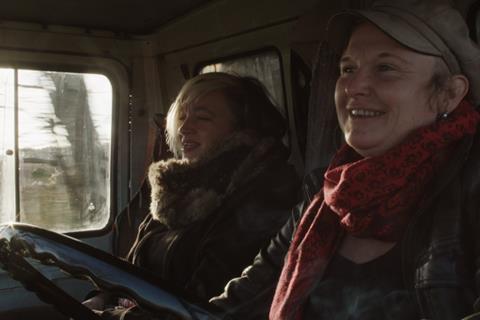 Paris-based Luxbox has acquired international rights to Karim Dridi's road movie Lazy Girls and will kick off talks with buyers at this week's European FIlm Market.
Newcomers Fanny Jullian and Julie Dumont star in the film about two young women who hit the road in their old truck after being chased from the land they were squatting and head off on an adventure.
Produced by France's Mirak Films and Les Films du Veyrier, Lazy Girls is the latest title from Tunisian-born French filmmaker Dridi. His credits include Pigalle (1994), drama Bye-Bye (1995) and boxing world drama Rage (2003). His most recent title, gangster drama Chouf, premiered in Cannes in 2016.
Dridi is also notably behind an eclectic blend of features spanning different genres from 2000's music documentary Cuba Feliz to 2009's Sahara-set romance The Last Flight starring Marion Cotillard and Guillaume Canet.
Dridi told Screen: "We are sure that this journey across France by the side of our two characters will resonate with international audiences."
"From the first moment, we were moved by this beautiful story of friendship," said Luxbox's CEO Fiorella Moretti.
Head of sales Jennyfer Gautier added the film is Dridi's "ode to freedom through the gaze of two women whose life choices are far from the norm. This is a rather bold approach, hence the desire to defend such a film alongside him."
EFM slate
Luxbox is also selling Berlinale Competition title 20,000 Species of Bees from Basque director Estibaliz Urresola Solaguren, which follows an eight-year-old child one summer who is struggling with her identity. The film previously participated in the Berlinale Coproduction Market, as well as other leading European development labs.
Martin Benchimol's Panorama title The Castle is also on the Luxbox slate. It is described as a modern fairytale about a mother and daughter who inherit a castle that falls into ruin and look for ways to keep the precious property intact.
In the market Luxbox is showcasing Lorena Padilla's comedy drama Martinez, starring Francisco Reyes, about a lonely accountant pushed into retirement who rethinks his life after his neighbour is found dead. Gautier called the film "a feel-good movie about a late bloomer."
Luxbox will show buyers a promo reel of Mohammed Ben Attia's Floating In A Vacuum, produced by Tunisia's Nomadis Image with Belgium's Les Films du Fleuve and France's Tanit Films. It follows a man fresh out of jail who sets out to find his son and take him far away to share a secret.
Floating In A Vacuum is the third feature from Tunisian director Mohamed Ben Attia whose Hedi won the best first film and best actor prizes in Berlin in 2016 . His 2018 film Dear Son premiered in Directors' Fortnight at Cannes in 2018.
Luxbox is also handling Carolina Markovicz's Toll, the Brazilian filmmaker's second feature following TIFF Platform title Charcoal ,about a toll booth attendant who helps a gang of thieves steal watches from people driving to the coast, hoping to raise enough money to send her son to an expensive gay conversion workshop. The film is produced by Brazil's Biônica Filmes and Portugal's O Som e a Fúria.
Also on the slate is Indian director Shuchi Talati's first feature Girls Will Be Girls set in an elite boarding school in a small Himalayan town in Northern India that focuses on a 16-year-old girl whose sexual awakening is hijacked by her mother who never got to experience a true coming-of-age herself. The film is produced by France's Dolce Vita Films.
Rounding off Luxbox's eclectic slate is Felipe Carmona's Penal Cordillera, now in post. It is produced by Cinestación Producciones limitada and Multiverso Produções and is set in a swanky prison at the foot of the Andes where prisoners are serving life sentences in the lap of luxury complete with a pool, gardens, aviaries and guards who act more like their employees. When one of the inmates gives a TV interview, the unexpected backlash threatens to upend the prisoners' comfortable life.