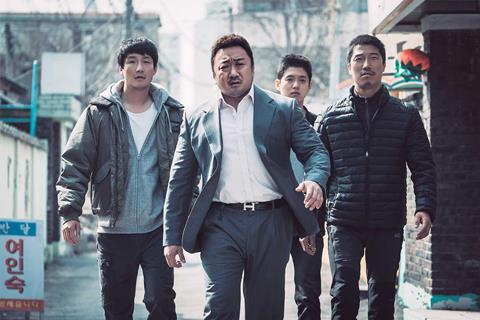 Seoul-based sales agent M-Line Distribution has picked up international rights to crime action film The Outlaws, which is currently topping the Korean box office, and Busan gala presentation Butterfly Sleep.
Directed by Kang Yun-sung, The Outlaws has racked up more than 2.4 million admissions since its release on October 3.
Set in Seoul in 2004, the film follows a detective and his team taking on a Chinese gangster who has single-handedly taken over the local mob. The cast is headed by Don Lee (Train To Busan), Yoon Kye-sang (The Bacchus Lady), Cho Chae-yun and Choi Guy-hwa.
Jeong Jae-eun's Butterfly Sleep stars Japanese actress Nakayama Miho (Love Letter) in the story of a novelist who is diagnosed with Alzheimer's Disease and her relationship with a younger Korean man. The Japan-set drama, which also stars Korea's Kim Jae-uck (Antique), will be released in Korea in May 2018.
M-Line has also picked up BIFF Panorama title Method, a drama about two heterosexual men who develop feelings for each other when they work together in a gay-themed play. Directed by Pang Eun-jin, the film stars Park Sung-woong (New World), Yun Seung-a and Oh Seung-hoon. It is scheduled for Korean release on November 2.
Also new on M-Line's slate is animated feature My Bad Boss, an adaptation of the popular Korean webtoon of the same name, which has racked up more than 2 million views per episode on the Lezhin Comics platform. Baek Jong-seok has directed the erotic feature, currently in post-production, which revolves around an advertising agency executive who works as a male escort at night.
M-Line is also selling BIFF titles After My Death, Kim Ui-seok's debut feature screening in New Currents; Lee Gwang-kuk's A Tiger In Winter, which is screening in BIFF's Vision section; and Panorama titles Notebook From My Mother, directed by Kim Sung-ho; and The Emperor from Min Byung-hun.