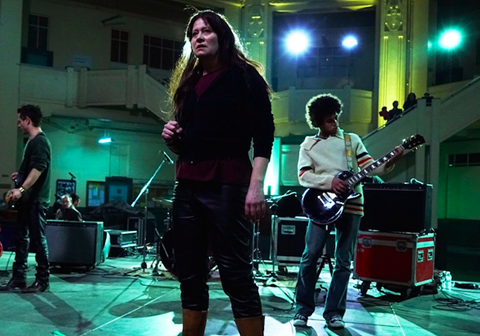 The autumn festival deals continue to trickle in as Magnolia Pictures said on Wednesday it had picked up US rights from Celluloid Dreams to Susanna Nicchiarelli's Nico, 1988.
The film premiered in Venice where it won best film in Horizons and Magnolia is targetting a 2018 theatrical release.
Nico, 1988 focuses on the final two years of Nico, the Velvet Underground singer whose ethereal vocal style bewitched a generation. In the late 1980s and approaching 50, Nico lives a solitary existence in Manchester and resolves to reconnect with her son when her manager persuades her to embark on a European tour.
Danish actress, singer and songwriter Trine Dyrholm, who won the 2016 Berlin Silver Bear for her role in Thomas Vinterberg's The Commune, plays the title role in the film.
"Susanna Nicchiarelli has conjured up a beautifully filmed window into the world of Nico that rings truer than any documentary could," Magnolia president Eamonn Bowles said. "It would not have been possible without the daring, transcendent performance by Trine Dyrholm as the reluctant, deeply flawed icon."
"I am so excited that my film will be seen by an American audience, and I am really proud that Nico, 1988 has been acquired by such a highly regarded, tasteful distribution company," said Nicchiarelli.
Nico, 1988 is an I Wonder Pictures release of a Vivo film with Rai Cinema and Tarantula production in coproduction with VOO and BE TV. Marta Donzelli, Gregorio Paonessa, Joseph Rouschop, and Valérie Bournonville produced, and the executive producer is Alessio Lazzareschi.
Magnolia senior vice-president of acquisitions John Von Thaden brokered the deal with Charlotte Mickie of Celluloid Dreams.