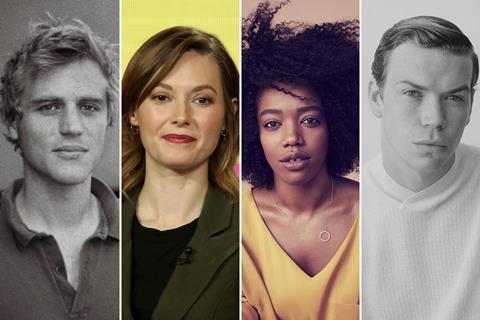 Malachi Smyth's feature debut The Score, starring Johnny Flynn, Naomi Ackie and Will Poulter, will restart shooting in the UK on August 31, after production was halted in March due to the pandemic.
Lydia Wilson, whose credits include Star Trek Beyond, About Time, Ripper Street and Requiem, has also joined the cast.
Described as a heist musical and featuring original music from actor-musician Flynn, The Score centres on two small-time crooks who are on a job at a roadside café when one falls in love with the waitress and begins to question his life choices.
Written and directed by Smyth, The Score is produced by Matthew James Wilkinson of Stigma Films and Ben Pullen of Sentinel Entertainment. Isabelle Georgeaux of Pont Neuf is co-producing. WestEnd Films is handling world sales.
New locations, longer schedule
The Score was set to shoot in the spring but production was halted on March 16, the day before filming was set to begin and a week before a UK-wide lockdown was imposed.
"We arrived on set on the first day, but we didn't let the cast come in because we were thinking, 'This is looking extremely dubious'," Smyth told Screen. "It seemed like everything in the country at that point was moving into lockdown, even though the government was dilly-dallying. We took the decision to go away that evening and not come back again."
By June, Smyth and his team were already planning to start shooting in the late summer/early autumn, depending on the Covid situation. "It was important for us to be quickly out of the starting gates so no-one could poach our cast," said Smyth. "As soon as we started realising it might be practical to get back up by late summer then we moved heaven and earth to make that happen."
As the production started pre-pandemic, it had insurance in place, which has helped to get the shoot going again. "It meant the money we lost in pre-production in March would come back to us. The insurance company has been very supportive."
The Score also benefited from the BFI's Covid-19 Production Continuation Fund, which awards up to £150,000 per project to UK indie productions interrupted as a direct result of Codvid-19.
The five-week shoot is now set to begin on August 31 at a new location – in and around the Luton Hoo estate in Hertfordshire, which the filmmakers found during lockdown.
The shooting schedule has been extended by a week to accommodate the extensive new Covid-19 production regulations.
"Everything is slower," he explained. The crew will be split up into separate cohorts (costume and make-up, for example), that do not mix with other teams. "We have a one-way system on set," added Smyth. "They move in, do their job, and move out, and the next lot come in."
All the cast and crew, including extras, are being regularly tested for Covid, and there are temperature checks every day for people coming on set.
The new regulations have not had made of an impact on the script, said Smyth, but some changes to specific shots have been altered. "A fair chunk of the early part of the film takes place in cars and there are [now] strict rules around what we can do in terms of putting a camera team in the car or not. More of our car work will be on a low loader, for example. We made the car we're using for the hero bigger as well in order to give us a bit more leeway."
The team is hoping to finish post-production by January 2021.
The executive producers on The Score are Flynn; Nick Angel, who recently collaborated with producer Wilkinson on Yesterday; and Tim Dellow of Transgressive, which represents Johnny Flynn's music.
Smyth's further writing credits include the sci-fi Gateway 6, to be directed by Tanel Toom and starring Olga Kurylenko. The script topped the 2016 Brit List of best yet-to-shoot film screenplays. It is also being produced by Sentinel and Stigma.