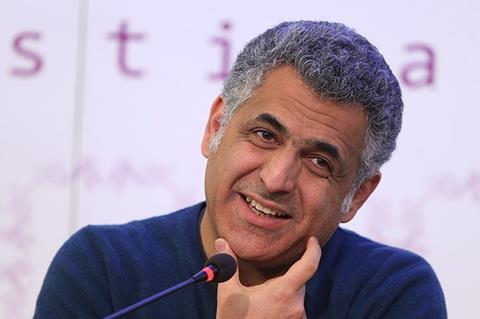 Iranian filmmaker Mani Haghighi has called on the international film community to step up efforts in the fight against the authoritarian Iranian government, and says festivals, markets and the Oscars should exclude state-run Iranian entities.
"Press releases condemning the imprisonment of filmmakers change nothing. Film stars holding signs demanding the release of imprisoned filmmakers change nothing," Haghighi told Screen from his home in Tehran. "They are very nice, and are done with the best intentions, but they make no difference at all. The only thing they accomplish is to give the international film community the false sense that they 'played a small role' in helping us.
"Real support takes place when the Oscar Academy stops asking government bodies to nominate films for the best foreign film category, " he continued. "Real support takes place when government-run film institutions representing dictatorships are prevented from joining major international film markets. Gestures are useless. We need interventions."
Haghighi was talking to Screen in his capacity as international feature film jury president for the Geneva International Film Festival (GIFF). He had been due to attend the festival and support the Swiss premiere of his latest film Subtraction but has been prevented from travelling out of Iran by the Iranian government ever since he attempted to board a flight to the BFI London Film Festival for the UK debut of his film in October. He had his passport confiscated and has been unable to travel since.
Haghighi has been vocal in his support for the protest movements that have swept through Iran since the death of 22 year-old Mahsi Amini in a Tehran hospital in September following her arrest and alleged beating at the hands of the country's so-called morality police.
Subtraction, which premiered at Toronto last month, is a drama about a married couple who believe they meet their doppelgangers in Tehran. It is produced by Iran's Majid Motalebi of Majid Film Production with Jean-Christophe Simon of Films Boutique.
Haghigi took on his jury duties from his home in Tehran. He said while Zoom meetings might be efficient in running corporations, "discussing art requires time, pause, introspection and actual human interaction. So this was unsatisfying but, under the circumstances, inevitable."
He added: "You can only judge a film when it is properly projected on a screen, in a large cinema, in the presence of other humans, with a strong projector and an excellent sound system, so that it looks bigger than life, and you feel you are sharing it with the people around you in the dark. Anything else is substandard."
Geneva prizes
He and his four fellow international feature film jury members from Swiss film schools (Korlei Rochat, Lisa Mouquin, Youssef Youssef and David Nguyen), awarded the festival's Reflet D'Or for best feature, complete with a 10,000 CHF ($10,600) purse, to Saint Omer, directed by Alice Diop. Documentary maker Diop's fiction debut uses a real-life courtroom drama to challenge media assumptions. The film also won the top prize at the Seville European Film Festival this weekend.
Haghighi sent a video message which played out during the ceremony, apologising for not being able to be there in person.
"As you may know, a huge popular uprising has engulfed Iran over the past two months, I have been supporting this uprising in my own small way, and as a result, my passport has been confiscated. So, I'm recording this video message in my living room in Tehran, where I've been watching all these great films.
Haghighi said Diop's film presented "a multitude of explosive themes under a bewitchingly calm surface," adding "the direction of the film is a masterclass in precision, and every single performance deserves its own award.
"As I watched it, I was reminded over and over again of the genius of Carl Theodor Dreyer's Passion of Joan of Arc, and for a filmmaker, there is no higher praise than that."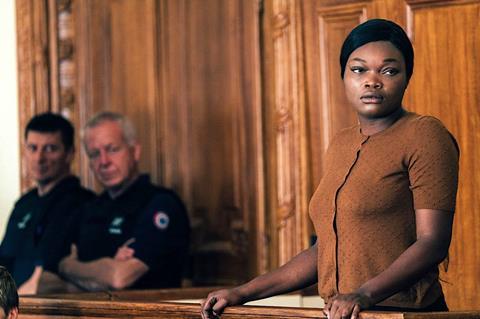 During the evening closing ceremony November 12, GIFF handed out further plaudits led by the Reflet d'Or for best series and 10,000 CHF ($10,600) which went to French Canadian offbeat farmyard tragicomedy Last Summers Of The Raspberries, created by Florence Longpré, Philippe Falardeau and Suzie Bouchard.
The €10,000 ($10,400), prize for best European script, funded by the European Alliance for Television and Culture, was awarded to Lost Luggage, created and written by Dutch filmmaker Tiny Bretels.
The 10,000 CHF ($10,600) prize for best immersive work was presented to the Dutch dialogue- free operatic hike Eurydice, A Descent Into Infinity, created by Céline Daemen.
The festival's Future is Sensible award, together rwith 10,000 CHF ($10,600), went to French immersive theatre work Les Aveugles (The Biind), created by Julien Dubuc and the INVIVO collective.
Danish director Nicolas Winding Refn was honoured with the Geneva Award ahead of the Swiss premiere of his Netflix series Copenhagen Cowboy. Also picking up a Film and Beyond prize was filmmaker and actor Alexandre Astier.
Future perfect
2022 marked the second edition of GIFF under the general and artistic direction of Anaïs Emery and the 10th edition of the Geneva Digital Market under the watchful curation of Paola Gazzani Marinelli. They ensured the event lived up to its billing as a home for innovative and future-oriented projects.
GIFF posted 35,000 festival attendees over the course of its 11 days, up from last year's 30,000. Organisers said attendance reflect growing enthusiasm for digital creations among the general public with 12,000 VR viewings, a number that has continued to increase over several editions including last year's 11,000 tally.
"The GIFF's convergent program offers a unique approach to audiovisual culture," Emery noted as the curtain fell on her latest festival. "The festival and market are helping to redefine the 'seventh art' in a broader way. We are playing a vital role for Swiss creative industries, offering them concrete experience of the artistic and industrial challenges and opportunities offered by the evolution of image technologies."