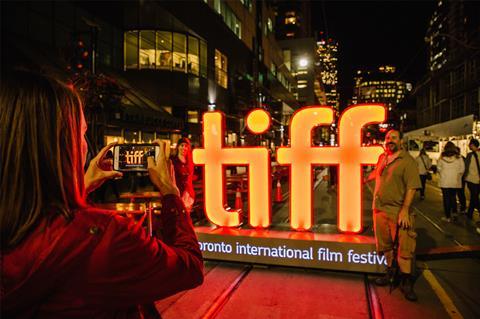 A cluster of late packages has brightened broader commercial prospects at TIFF as industry attendees roll up their sleeves, all too aware of distribution pitfalls as bankruptcy looms for Donald Tang's Global Road.
FilmNation is kicking off talks on the prize package Knives Out, a murder mystery from Rian Johnson and producer Ram Bergman to star Daniel Craig, as the parties return to their indie roots on breaks from the Star Wars universe and Bond 25, respectively. CAA Media Finance handles North American rights and represents China with FilmNation.
Voltage is in talks with buyers on its action project Eve that it is producing with Jessica Chastain. IMR International arrives with Margot Robbie-Matthias Schoenaerts Second World War revenge thriller Ruin, which CAA Media Finance is also touting to US buyers. IMR continues talks with buyers on Olivier Assayas' upcoming thriller Wasp Network, which now includes Penelope Cruz, Wagner Moura and Gael Garcia Bernal.
As TIFF grows in stature primarily as a market for finished films, Bloom will hope to capitalise on two world premieres with notable female leads: Jake Scott's drama mystery American Woman starring Sienna Miller, as well as 11th hour festival selection A Private War, Matthew Heineman's biopic about war correspondent Marie Colvin with Rosamund Pike in the lead.
The Sierra/Affinity slate includes Natalie Portman in Brady Corbet's acclaimed Venice premiere and TIFF selection Vox Lux, (CAA and Endeavor Content represent US rights) Neil Jordan's psycho-thriller Greta with Chloe Grace Moretz and Isabelle Huppert (Endeavor Content, CAA), and Tim Sutton's gritty Platform opener Donnybrook (UTA) starring Jamie Bell.
In a favourable climate for documentaries given the summer box office success in the US of Won't You Be My Neighbor?, RBG, and Three Identical Strangers, AGC Studios will be counting on Michael Moore's hefty commercial brand when its launches international sales on TIFF Docs opener Fahrenheit 11/9, which looks at the impact of Trump on life in the US.
The demise of Global Road has brought the challenges of the distirbution arena to the fore once again. One year ago Byron Allen's Entertainment Studios snapped up several films here – it is quieter now, and its Keanu Reeves sci-fi Replicas remains undated. Lionsgate's splashy TIFF 2017 sci-fi pre-buy Kin opened with a whimper in the US last weekend. US buyers are wary.