Fox's sequel scores $5.8m (£3.74m) debut, including previews, to dethrone Fifty Shades of Grey; Universal's raunchy adaptation crosses £30m mark after 17 days in play.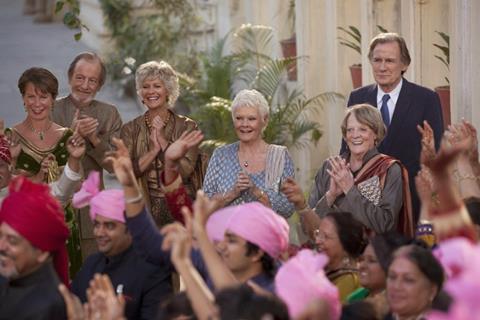 The grey pound has proved potent again at the UK box office as The Second Best Exotic Marigold Hotel opened at number one.
Fox's sequel checked into the chart with a $5.8m (£3.74m) bow, including just over $1.1m (£700,000) in previews, from 589 sites. It's worth noting that the film's Fri-Sun tally of $4.7m (£3.04m) would have also seen it dethrone Fifty Shades of Grey.
The debut is up on its predecessor's $3.4m (£2.2m) debut from 504 sites before it went on to take $31.4m (£20.4m), a target that should be surpassed by the sequel especially as it's likely to prosper midweek given its older-skewing audience.
Also for Fox, Kingsman: The Secret Service shot to an extra $1m (£667,464) for $22.4m (£14.55m) and will soon become Matthew Vaughn's best-ever UK performer, while Birdman boosted 37% following its Oscar wins and has now grossed $8.7m (£5.67m).
Selma has marched to $4.2m (£2.75m) after four weeks in play.
UNIVERSAL
It may have been prevented from a third straight week as the UK's number one, but Fifty Shades of Grey had a different milestone to celebrate this weekend as it crossed the £30m mark after 17 days in play.
Universal's adaptation fell 51% on its way to a $3.4m (£2.24m) third weekend for a terrific $46.6m (£30.3m) to date. It will now be setting its sights on finishing over £35m at the UK box office and given what it's done so far, you wouldn't bet against it.
Also for Universal, The Boy Next Door opened with $625,000 (£406,000) from its 337 sites to chart seventh. That's at least ahead of director Rob Cohen's previous UK outing, Alex Cross, which bowed to $349,000 (£226,780) from 212 sites.
The Theory of Everything has now reached $31.7m (£20.6m) after nine weeks in play.
WARNER BROS
Landing in 458 sites, Focus got off to a healthy $2.9m (£1.9m) start in the UK to see it chart third.
Warner Bros' con artist drama scored co-directors Glenn Ficarra and John Requa's best-ever debut, ahead of I Love You Phillip Morris' $1.6m (£1.1m) from 342 sites, and will soon become their highest grossing film, currently the $5.2m (£3.4m) result of Crazy, Stupid, Love.
Also for Warner Bros, American Sniper took a further $259,000 (£168,000) for $20.7m (£13.4m) after seven weeks in play, while Jupiter Ascending is now up to $6.5m (£4.2m) following a $216,000 (£140,000) fourth weekend.
Cake dropped heavily in its second weekend and has so far grossed $336,000 (£218,000).
DISNEY
Dropping to fourth was Big Hero 6 with a $1.9m (£1.2m) fifth weekend. Disney's animation is now up to $27.2m (£17.7m) and will see have its eye on crossing the £20m mark.
STUDIOCANAL
Shaun the Sheep Movie rounded off this week's top five with a $1.55m (£1m) fourth weekend. StudioCanal's big screen adaptation is now up to $17.9m (£11.6m).
Also for StudioCanal, Paddington and The Imitation Game have reached $57m (£37.07m) and $25m (£16.3m), respectively, while well-received thriller Catch Me Daddy could only post a $41,000 (£26,584) debut from its 23 sites with one still to report.
ICON FILM DISTRIBUTION
Critically acclaimed horror It Follows scared up a respectable non-final $570,000 (£370,442) from its 190 sites through Icon Film Distribution.
The debut is ahead of stablemate The Babadook which bowed with $534,000 (£347,512), albeit from fewer sites at 147. Like that film, It Follows will hope that its strong reviews and word-of-mouth will prevent it from the usual fast burn nature of horrors at the UK box office.
SONY
The Wedding Ringer followed up its solid opening with a $570,000 (£370,000) second weekend for a running tally of $2.8m (£1.8m) through Sony.
EONE
Peppa Pig: The Golden Boots ended its UK run after 16 days of release with a solid result of $3.5m (£2.3m) from reduced ticket price shows through eOne.
MORE2SCREEN
Backstreet Boys documentary Show 'Em What You're Made Of grossed $242,000 (£157,161) from its 231 screens on Thursday [Feb 26] through More2Screen.
The screenings saw a live performance by the band at London's Dominion Theatre broadcast live following the film.
Overall, the event was broadcast to 480 cinemas in 16 territories across Europe, delivering over $384,000 (£250,000).
PARAMOUNT
Falling over 50% (excluding previews) in its second weekend, Paramount's Project Almanac added $210,000 (£136,000) for $1.8m (£1.16m) to date.
ARTIFICIAL EYE
Currently playing in 22 sites, Artificial Eye's The Duke of Burgundy is up to $143,000 (£92,499) after a $32,000 (£20,712) second weekend.
METRODOME
Including just over $7,700 (£5,000) in festival previews, Metrodome's White God posted a UK debut of $27,000 (£17,475) from its 14 sites.
UPCOMING RELEASES
This week sees saturation releases for Fox's Unfinished Business and Sony's Chappie, while Curzon Film World's Still Alice receives a wide release.
Universal's Kill the Messenger, Metrodome's Hyena and Peccadillo Pictures' Appropriate Behaviour are among the films receiving a limited release.