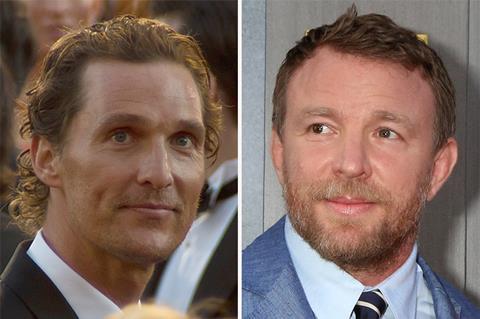 Matthew McConaughey has signed to star in Guy Ritchie's new drug gang film Toff Guys, joining Henry Golding and Kate Beckinsale in the cast.
Backed by Miramax and set to start shooting this autumn in the UK, Toff Guys was written by Ritchie with Marn Davies and Ivan Atkinson. It explores the collision between old European money and the modern marijuana industrial complex.
Production will be supervised for Miramax by COO Bob Osher and vice president of development and production, film and TV, Matthew Anderson.
Miramax struck what was reported to be a $30m deal with Rocket Science to finance the film at this year's Cannes festival.
Ritchie recently finished shooting Disney's live action remake of Aladdin, with Will Smith.
Matthew McConaughey most recently appeared in crime drama White Boy Rick. He recently finished shooting thriller Serenity and Harmony Korine comedy The Beach Bum.
Miramax CEO Bill Block commented: "McConaughey as the inside outsider with Henry and Kate will make for a thrilling Guy Ritchie ride."